Cardinal Cahal B. Daly (1 October 1917 – 31 December 2009)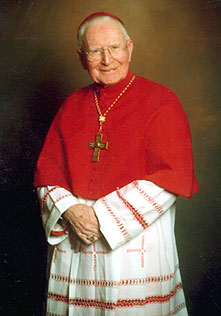 Cardinal Daly, was a native of Loughguile, Co. Antrim, Diocese of Down & Connor, was born in October 1917. He was educated at St Patrick's National School, Loughguile, St Malachy's College, Belfast and Queen's University, Belfast. He was ordained Priest in June 1941. He studied philosophy and theology in St Patrick's College, Maynooth where he received a Doctorate in Divinity in 1944. In 1953 he received a Licentiate in Philosophy at the Institut Catholique in Paris.His first appointment was as Classics Master in St Malachy's College, Belfast (1945-6). In 1946 he was appointed Lecturer in Scholastic Philosophy at Queen's University, Belfast. He became a Reader in Scholastic Philosophy at Queen's in 1963, a post he held until 1967 when he was appointed Bishop of Ardagh & Clonmacnois. In 1982 he was appointed Bishop of Down & Connor in succession to Bishop William Philbin. On the 6th of November 1990 he was appointed Archbishop of Armagh and Primate of All Ireland in Succession to Cardinal Tomás Ó Fiaich, and was later created a Cardinal on the 28th of June 1991. Cardinal Daly retired as Archbishop of Armagh on the 1st of October 1996. He died on 31 December 2009 and was buried in the grounds of St Patrick's Cathedral, Armagh.
COAT OF ARMS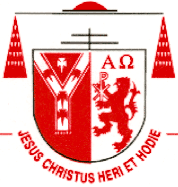 Cardinal Daly's armorial bearings show the arms of the Archdiocese of Armagh on the left side of the shield, and the personal arms of His Eminence on the right side. The right side of the shield shows a personalised variation of the arms of the Ó Dálaigh family. The Alpha and Omega are early Christian symbols of Christ, who in the Apocalypse of St John declared himself to be "Alpha and the Omega, the first and the last". The "Chi Rho" sign is intended to recall the Christus Rex Society of which the Cardinal was a founder member. This was a Society of priests committed to the diffusion and implementation of Catholic social teaching and to working for social justice. The "Chi Rho" sign is another early Christian symbol of Christ (being the first two letters of "Christ" in the Greek language). Over the shield is a variation of an ornamental hat, once worn by Cardinals. Cardinal Daly's motto translated from the Latin reads: Jesus Christ, yesterday and today. It comes from the Epistle to the Hebrews (13.8) and bears witness to the ongoing relevance of Jesus Christ and the truth of his Gospel for all time.