The death has taken place on Wednesday, 6th September 2023, of Fr Laurence Caraher, PE.
May he rest in peace.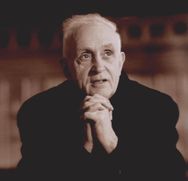 Archbishop Eamon extends the sympathy of Cardinal Seán, Bishop Michael, the clergy and the people of the Archdiocese to Fr Laurence's family.
Funeral arrangements:
Reposing in the Church of the Assumption, Tullyallen, Friday, 8 September, from 5pm to 10pm – pausing for Mass at 7.30pm
Requiem Mass on Saturday, 9 September at 12 noon;
Interment afterwards in adjoining cemetery.
CURRICULUM VITAE
Very Rev Laurence Caraher PE
Born: 5 February 1932, Parish of Knockbridge
Studied: Monastery, South Devon, England 1950-51
Mount St Mary's, Milltown, Dublin 1951-58
UCD 1951-54
Ordained: 2 March 1958, Clonliffe College, Dublin, for the Society of Mary
Incardinated: 1 December 1989, Archdiocese of Armagh
Appointments
Teacher, Chanel College, Dublin 1958-84
Curate, Drogheda 1984-95
Parish Priest, Mellifont 1995-2010
Pastor Emeritus, Assistant Pastor, Mellifont 2010-2016
Pastor Emeritus 2017
Date of Death: 6 September 2023, Sunhill Nursing Home, Termonfeckin