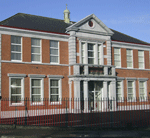 The Armagh Diocesan Pastoral Centre is situated in the centre of Dundalk in a building known locally as the Magnet. The Pastoral Centre was first opened by Cardinal Daly in 1993 at the Franciscan Convent, Mount Oliver, next door to the Ballymascanlon Hotel. It operated there until February 2007 when the Franciscan Sisters reclaimed the building for their own use. The new Pastoral Centre was officially opened by Cardinal Brady on 6 May, 2008. The previous director, Sr. Rhoda Curran RSM was appointed by Cardinal Brady in 1998. The current director, Fr. Gerry Campbell was appointed on 1st September 2016 after Sr. Rhoda retired.
The Pastoral Centre hosts a prayer room, excellent conference rooms, a counseling room, a small library and the offices of the Office of Pastoral Renewal and Family Ministry. Visitors to the centre are impressed with the freshness and brightness of the facilities.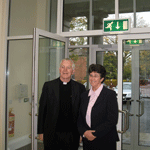 The Armagh Diocesan Pastoral Centre has a particular interest in family ministry. At different times it offers various courses including pre-marriage courses, marriage enrichment and bereavement support groups. It is also hosts "Rainbows", a programme to help children and young people cope with the loss of a parent.
The Pastoral Centre, with the support of the Office of Pastoral Renewal and Family Ministry offers various programmes and courses that support parishes. This includes baptismal ministry training, reflection days and training for ministers of the Eucharist, readers etc, liturgy training and on-going formation for parish pastoral councils. Seminars on specific topics are held periodically.
The address and contact information for the centre is:Armagh Diocesan Pastoral Centre
The Magnet
The Demesne
DUNDALK
Co. LouthTel: +353 42 933 6393 email:
[email protected]
The links below provides information on the pastoral centre and on the programmes being offered there.
Strategic and Operational Plan