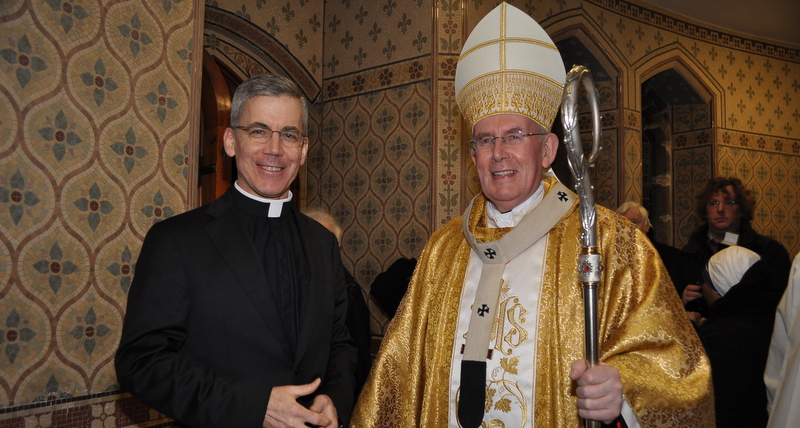 ST PATRICK'S CATHEDRAL, ARMAGH
WEDNESDAY 26 FEBRUARY 2014 at 7.30 PM
HOMILY BY CARDINAL SEÁN BRADY

 I was ordained a priest 50 years and 4 days ago on 22 February 1964.  It took place in the Pope's Cathedral in Rome – the Basilica of St John Lateran – which is called the Mother and Head of all the Churches of the City of Rome and of the World.  There were eleven of us in the class – seven were ordained on 22 February 1964.  Another was ordained a couple of weeks later.  Three left the College before ordination – including Dr Michael Wynne of Dundalk – who had been studying for the Archdiocese of Armagh.  Three are now dead, including Dr Wynne, the others are:
Mons Kevin Mullan of the diocese of Meath – who died suddenly in the Diplomatic Service of the Holy See in Havana, Cuba, and
Father Paschal Donohoe of Clonfert – who died many years ago after a prolonged period of sickness.
My first thoughts go to those three who are no longer with us.  I remember them with great affection and I pray this evening that they are now resting in peace in the presence of the Lord.
The ordination ceremony was long – beginning at 8.00 am and ending sometime after midday!  It involved the ordination of priests and deacons and the institution of Lectorates and Acolytes.
It was such a long ceremony that we devised a scheme to bolster the drooping spirits of our guests – who would have been up for 6.00 am.  Under the watchful eyes of some helpful seminarians, they were discreetly slipped out of the Basilica for a reviving cup of coffee.
I have to say that I had the most caring guide in the city that day – in the person of a young man from Lislea in the parish of Bessbrook – who is now Canon Michael Crawley who is serving in Derrynoose in this diocese.
Next day, we celebrated our first Masses in various churches in the City.  I had chosen to celebrate this Mass in the Basilica of St Mary Major, at the altar of Our Lady – Salvation of the Roman People.  It is one of the most beautiful chapels in all of Rome and particularly dear to the hearts of the Roman people.
You can imagine my delight on Thursday 14 March last – the day after being elected – when Pope Francis – bright and early – sped across the City of Rome to lay a bouquet of flowers and pray at that self same altar.
Last Saturday I celebrated Mass in St John Lateran, where we were ordained, and on Sunday, I celebrated at that same altar in St Mary Majors and this evening it is my great joy and delight to celebrate this Mass of Thanksgiving with all of you, family, classmates, priests, religious and lay people of this diocese.
We are here this evening to give thanks for all of that and for all that has flowed from that ordination and that day.
I am most grateful for the presence of all of you and for all those you represent.  I am particularly thankful for the presence of Archbishop Charles Brown – the Apostolic Nuncio and, therefore, the representative of Pope Francis.  I thank him for kindly agreeing to read the letter from Pope Francis for this occasion and indeed for the part he has played in acquiring that letter.
There is another reason I am pleased that Archbishop Brown is here.  He comes from New York.  The chalice which I am using here tonight was brought by my uncle from New York and given to me on the occasion of my ordination.  It reminds us of the links that join the Church in Ireland and the Church in the United States.
"What can I offer the Lord for all his goodness to me"?  The psalmist asked and proceeded to answer:  "I will bring a wine offering to the Lord to thank him for saving me".
I thank all of you for coming here this evening to join with me in offering this Mass to the Lord to thank him for ALL his goodness to me.  Of course, in thanking the Lord for all his goodness, I am thanking him for all the goodness he has shown to me through you – through all of your goodness and kindness, both before, during and after my ordination.
What better gift can we offer to the Lord than the chalice of wine which, through the power of the priest – will become the blood of Jesus Christ – the precious blood poured on the cross.  It is the blood given to be our food and drink to give us the strength to face that other chalice, which is part of every life – the chalice of our suffering.  Tonight in this Mass we give thanks for all of that and for much more.
The reason I chose the Second Reading is because St. Paul expresses so well my own feelings on an occasion like this.  I thank God for you – all of you – every time I think of you.  Every time I pray for you, I pray with joy.  I pray with joy because of the way, so often totally unknown to you, in which you have helped in the work of the Gospel from the very first time until now.
Recently a journalist asked me "What kept you going all these fifty years?"  Really I would have loved to have been able to say:  "My strong faith – my prayer life" but it would not be exactly true.  Instead I said:  "It was the prayers of so many people".  Then I reflected a bit more and I think a better answer would have been:  'It was really the love of God which kept me going – a love that found expression in the support, understanding and prayers of so many people over the years.  It was the mercy of God which has kept me going – a mercy that, despite all my failings and shortcomings, still persists in his choice of me.  As the letter to the Hebrews says: every priest is chosen by God to serve God on behalf of the people and, because he himself is weak, he must offer sacrifices, not only for the sins of the people but also for his own sins.
Have you ever noticed that we don't celebrate jubilees of Confirmations, First Communions or Baptisms.  But we do celebrate the jubilees of Marriage and of Ordination.
It draws attention to what marriage and Holy Orders have in common.  They are directed towards the salvation of others.  They confer a particular mission in the Church on the married and the ordained – namely to serve to build up the People of God.  If these sacraments contribute as well to the personal salvation of the married and the ordained, it is through the service given to others that they do so.
I think people recognise this and wish to celebrate and mark that service.  Tonight I am immensely grateful for all the Masses and prayers and goodness which people have shown.
Of course everyone is quoting Pope Francis these days.  A couple of years ago, during an interview, he pulled a faded piece of paper out of his back pocket.  It was a personal Act of Faith which he had written on the occasion of his joining the Jesuits – all those years ago.  It began like this:
I want to believe in a God who loves us all as his children
And in Jesus Christ who has poured his spirit into our hearts
to put a smile on our faces and so lead us to eternal life.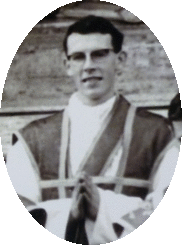 "To put a smile on our faces" – I like that.  He said he would gladly sign up to it all again.  So too, I would gladly sign up again to everything of the last fifty years.  But, of course, the secret of the power to face those years comes from this evening's Gospel.  It comes from our union with Christ and from the joy which that brings.
So, my final request is that you continue to pray for me as I will continue to pray for you.
I pray a special blessing on all of you and especially on Archbishop Eamon and all who organised this celebration.
AMEN
Click here to read the letter from Pope Francis to Cardinal Brady.