Celebrating Pope Francis' 2018 Visit to Ireland
In August 2018, a wave of excitement swept across Ireland as Pope Francis graced the Irish Church with his presence for the World Meeting of Families. The anticipation leading up to this historic event was palpable, and the impact it has had on families who attended was significant. As we mark the anniversary of Pope Francis' visit, we reflect on our time with Pope Francis and the fruits of the visit that continue to resonate within the hearts and homes of all who experienced World Meeting of Families 2018.
Key Moments from World Meeting of Families 2018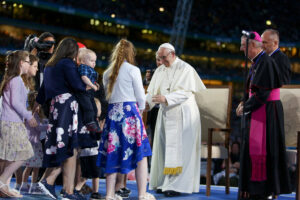 The Festival of Families: A Celebration of Unity
The "Festival of Families" was a joyful occasion that encapsulated Pope Francis message of love and harmony. Families came together from across Ireland and the world to celebrate their shared beliefs and values. Pope Francis' emphasis on the value of the family as the pillar of society struck a chord, reminding all of the importance of love, compassion, and community within our own homes.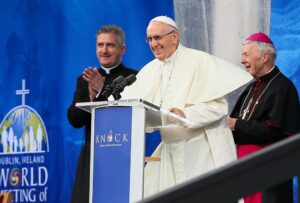 Pope Francis Pilgrimage to Knock: A Journey of Faith
Pope Francis' pilgrimage to the Shrine of Our Lady of Knock was a poignant moment during his visit. It symbolized a reconnection with Ireland's rich religious history and the enduring faith of its people. The shrine has long been a place of solace and devotion for countless families and Pope Francis' visit reinforced its significance. As we mark the anniversary of Pope Francis visit we encourage families to embark on their own journeys of faith, seeking guidance and inspiration in the most sacred places of their hearts.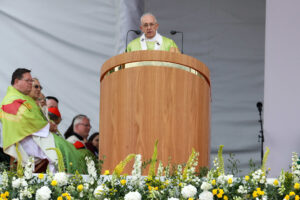 The Papal Mass: A Gathering of Hearts and Souls
The culmination of Pope Francis' visit was the Papal Mass in Phoenix Park, where hundreds of thousands of faithful gathered in unity and reverence. The Mass was a powerful testament to the enduring faith of the Irish people and their unwavering commitment to their spiritual heritage. It highlighted the importance of sharing our beliefs and values with the next generation.
---