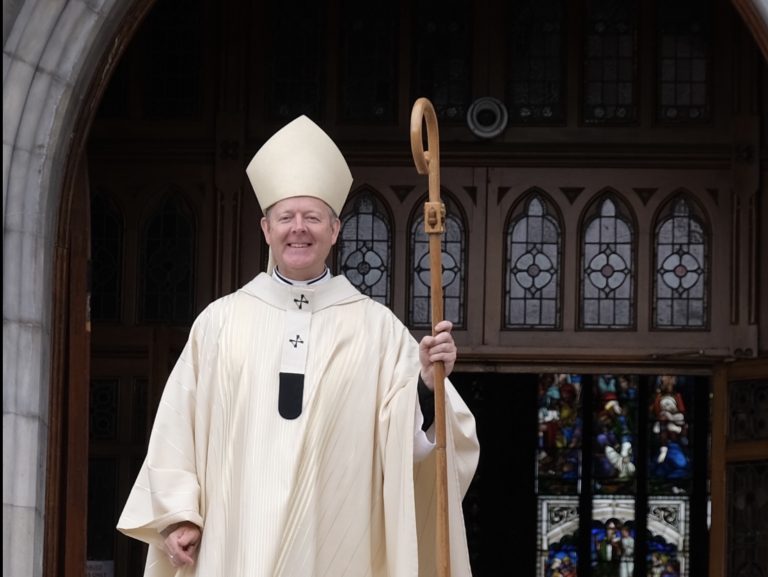 Archbishop Eamon Martin's Homily at the Mass for the centenary of the Legion of Mary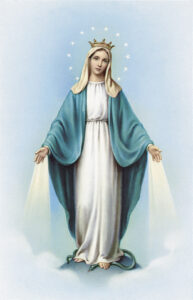 Dear brothers and sisters, you will remember the day you first made your legionary promise, praying to the Holy Spirit, with the legionary standard in your hand. On that occasion you declared your entire dependence on Mary as the mother of your soul. You undertook to be her soldier and her child.
"Most Holy Spirit, I, desiring to be enrolled this day as a legionary of Mary, yet knowing that of myself I cannot render worthy service, do ask of you to come upon me and fill me with yourself, so that my poor acts may be sustained by your power, and become an instrument of your mighty purposes…
So, taking in my hand the legionary Standard…
I stand before you as her soldier and her child, and I so declare my entire dependence on her. She is the mother of my soul".
In today's Gospel (Mk 9:30-37), Jesus speaks about spiritual childhood – teaching how true greatness in God's eyes is to be as innocent and humble as a little child. It reminds us of course also of the "little way" of Saint Thérèse of Lisieux, and of the childhood of Jesus and Mary that is described in the "true devotion" of Saint Louis Marie de Montfort, which was central to the spiritual thinking of the great Frank Duff, founder of the Legion of Mary, 100 years ago.
Lest anyone underestimate the power of "spiritual childhood", one only has to observe its fruits: from humble beginnings of only 15 people gathered around a small altar of the Immaculate Conception in Dublin's Francis Street 100 years ago, the Legion of Mary has touched the lives of millions of people in almost every country of the world. Today it has over four million active members, more than seventy million auxiliary members, – a great army of spiritual children of Mary engaged in an outpouring of apostolic work: door to door evangelisation; parish and hospital visitation; reaching out to the marginalised in prison and on the streets; gently teaching and explaining the Catholic faith; and all this, under the guidance of the Holy Spirit and under the protection of Mary.
My dear brothers and sisters in the Legion of Mary here in the Archdiocese of Armagh I congratulate you, thank you and bless you on your 100th anniversary. Your praesidiums throughout our diocese have overseen amazing prayerful and apostolic works throughout this diocese. Your members, both alive, and those who had gone to their rest, have made a real difference in the lives of so many. You have helped to save souls for Christ, 'bringing Christ to the world and the souls who need him', and helping, through the power of the Holy Spirit, 'to renew the face of the earth'.
Spiritual childhood of Jesus, and of Mary, does not of course mean spiritual weakness. As your promise puts it, you are not only Mary's children; you are also her soldiers, and, under the Holy Spirit, you are soldiers for Christ. You are a Legion, equipped for battle against evil, godlessness, selfishness, and all the sin and despair that Satan sows in the world.
It is interesting that in today's Gospel passage, Jesus spoke His words about spiritual childhood immediately after predicting and instructing His disciples that: "the Son of Man will be delivered into the hands of men; they will put him to death; and three days after he has been put to death he will rise again (Mk 9:30ff)". Jesus was under no illusions that the Good News will face many obstacles, much opposition, persecution, ridicule even death.
Today's first reading from the Book of Wisdom (2:12,17-20), is equally clear that the "godless" lie in wait for the virtuous, since they annoy them and oppose their way of life:
'Let us test him with cruelty and with torture,
and thus explore this gentleness of his
and put his endurance to the proof'.
The great Frank Duff, and inspirational legionaries like Eden Quinn and Alfie Lambe, shared this conviction and emphasised time and again that you are a "Legion", armed for battle. You wear armour of Christ; you are guided by the grace of the Holy Spirit and you proceed under the standard of Mary.
The legionary, according to the handbook, must therefore "clothe himself or herself in the armour of God", and must have loyalty, courage, discipline, endurance. But, equally, he or she must also walk with love and sympathy, be ready to finish the course, and be prepared to serve without limitations.
The Legion of Mary therefore seeks to blend humble childhood of Mary with the determination and zeal of being her soldiers. This powerful combination of qualities has enabled your legionaries to make such a lasting impact on the world. Just as Jesus sent out His disciples to be "wise as serpents" and "harmless as doves", so also you are sent out to "conquer the world", while walking in the "Way of Peace".
These characteristics are needed more than ever today as we endeavour to keep the faith alive here in Ireland and beyond. The challenge, of course, is to attract new members and to encourage, in particular, more young people to discover the Legion. This may mean re-examining the way we recruit, form and retain junior members. Perhaps a way towards this is to emphasise the qualities which I have spoken about today – to be both a child of Mary and a soldier of Mary.
Therein lies the power of the Gospel and the power of the Legion of Mary which, under the inspiration of the Holy Spirit, has sustained your Legion for the past one hundred years.
May God continue to bless you and grant success to your valuable endeavours. Happy Anniversary
+Archbishop Eamon Martin