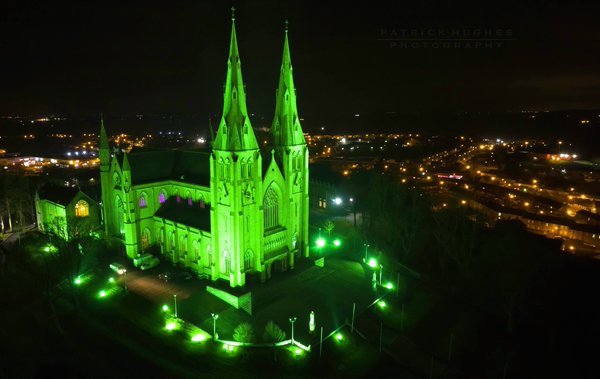 On this Feast of our Patron Saint, I send warm greetings from the Cathedral City of Saint Patrick in Armagh to Irish people everywhere. Today unites the Irish at home with our relatives and friends who live abroad and with the hundreds of thousands of others who are happy to celebrate this day with us.
Conscious that our National Apostle first encountered Ireland as a migrant, I offer special greetings to the 'new Irish' – the many migrants who have made their home among us. Céad míle fáilte romhaibh!
This Saint Patrick's Day, prompted by the situation of thousands of displaced people around the world, let us think about Patrick the 'unlearned refugee' (as he once described himself), the slave in exile, Patrick the undocumented migrant. Many of our compatriots remain undocumented in various countries around the world and in some cases feel vulnerable and treated with suspicion.
As Irish people, we cannot think of Patrick without acknowledging the enormous humanitarian and pastoral challenges facing growing numbers of people who find themselves displaced and without status in our world. This is so shockingly exemplified by the refugee crisis here in Europe. I invite you to pray for refugees and for all displaced families at this time and, wherever you are, to encourage the hospitality and welcome for which we, Irish, are famous the world over.
In 2017, when we think of the treacherous journeys many migrants are forced to make, we are powerfully reminded of those who commit their lives to the protection of humanity. I salute the tremendous work of the Irish navy which has helped rescue thousands of migrants from the Mediterranean. Today I especially bring to mind the bravery, commitment and dedication of the women and men of our own search and rescue services at home. Our prayers are with the families of the crew of Coast Guard Helicopter Rescue 116: Captain Dara Fitzpatrick, Mark Duffy, Ciaran Smith and Paul Ormsby.
Saint Patrick's experience of isolation and captivity as a teenager transformed and shaped his whole life and his relationship with God. His lonely time as a slave on the hills of Ireland became a transforming experience, where he felt embraced by the fatherly love of God. The more he prayed, day and night, the more he came to realise that God was calling him to conversion and close friendship with Him.
Having once been 'like a stone lying in the mud' he now felt as if God had picked him up and placed him at the very top of the wall!
Much later in his life Patrick, now a bishop, became the object of character assassination and faced a vote of no confidence because of the sins and mistakes of his youth. Once more, in his exile and isolation, he felt the presence and protection of God who loved him as the 'apple of his eye'.
No wonder our Patron Saint was able to feel great empathy with the struggles of his people, especially those of his new converts in Ireland who were themselves captured and sold into slavery by the human traffickers of his day. Centuries later Saint Patrick continues to inspire Irish people everywhere to speak and work for an end to similar exploitation where it is happening today.
Guím idirghuí Naomh Pádraig ar ár lucht imirce scaipthe ar fud na cruinne. Ba dheoraí NaomhPádraig é féin tráth. Tuigeann sé ar n'uaigneas agus ar m'briseadh chroí. Guím beannacht, ráth agus séan ár bPatrúin oraibh uilig.