Archdiocese of Armagh, Virtual Pilgrimage to Lourdes 2021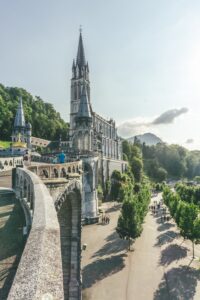 The Covid 19 pandemic has meant that we are again unable to travel to Lourdes as an Archdiocese in 2021. The annual pilgrimage to Lourdes is a point in the Archdiocesan year that many look forward to and so Fr Mark, Fr Michael and the Lourdes Pilgrimage committee has developed a Virtual Pilgrimage that will again be available online.
You can access each of the Pilgrimage Masses, Holy Hours, Rosaries etc in this years programme by clicking any of the images or links below:
Virtual Pilgrimage Programme
Pilgrimage Schedule
Friday 7th May 2021
12 Noon: Words of Welcome and Mass from St. Brigid's Shrine and Church Faughart
5pm: Rosary lead by Dr Sean McNichol, Pilgrimage Medical Director
Saturday 8th May 2021​
12 Noon: Mass of St. Bernadette, celebrated by Fr. Gerry Tremer, Cullyhanna
5pm: Rosary lead by Ann Forbes, Head of Nursing.
7pm: Torchlight Procession from St. Patrick's Cathedral Armagh
Sunday 9th May 2021
12 Noon: Mass celebrated by Bishop Michael Router from Holy Redeemer Church, Dundalk
5pm: Rosary lead by Cora Muckian, Head Handmaid
7pm: Holy Hour, Fr John Gates, Church of Our Lady of the Assumption, Magherafelt​​
Monday 10th May 2021
12 Noon: Healing Mass, Fr. Barry Matthews from Our Lady of Lourdes Church, Drogheda
5pm: Rosary led by Head Brancardier Gabriel McGuigan
7pm: Outdoor Stations of the Cross led by Fr Garrett Campbell, Our Lady's Grotto Maghery
Tuesday 11th May 2021
12 Noon: Mass of the Holy Rosary celebrated by Dean Kevin Donaghy, Dungannon
5pm: Rosary lead by Joe McCrystal, Central Council Secretary
7pm: Eucharistic Procession lead by Fr Aidan McCann, Keady.​
Wednesday 12 May 2021
5pm: Rosary lead by Gerry Woods Central Council Treasurer
7.30pm: Mass from St. Patrick's Cathedral Armagh celebrated by Archbishop Eamon Martin
8.15pm: Closing words from Fr Mark O'Hagan​
All Masses during our Virtual Pilgrimage will be offered up for those who have travelled to Lourdes with the Diocesan Pilgrimage throughout the years and for all our deceased pilgrims and volunteers.
A dedicated email account has been set up if anyone wishes to send in petitions which will then be printed off and placed in front of the Altar during the pilgrimage. The address is [email protected]
Please note this account will be deleted after the 12th May 2021
Heartfelt hanks are extended to @www.stillpoint.photo for images used throughout the Virtual Pilgrimage videos.