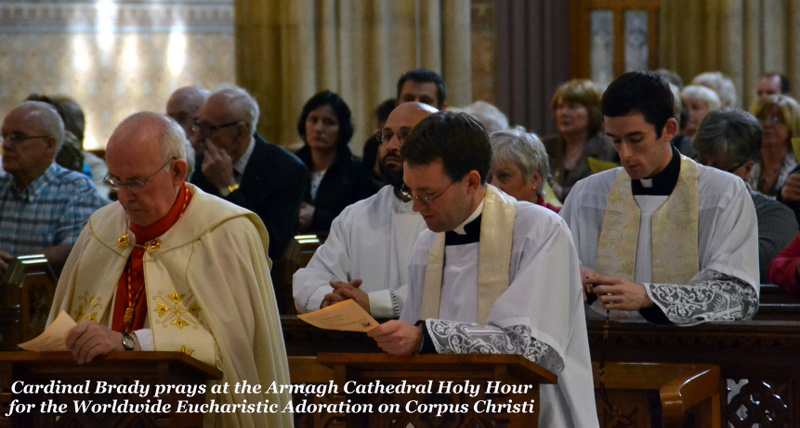 Cardinal Seán Brady welcomes Ireland's participation in the Worldwide Eucharistic Adoration
This Sunday, the Feast of Corpus Christi in Ireland, cathedrals and parishes throughout the island – North and South – will mark this Year of Faith with an hour of Eucharistic Adoration in their local churches.  At 4.00pm (5.00pm Rome time) the Universal Church will be synchronised with Rome in prayerful communion with Pope Francis as part of this Worldwide Eucharistic Adoration.  Archbishop Eamon Martin, Coadjutor Archbishop of Armagh, will be representing Irish bishops in Saint Peter's Basilica for this special liturgical event.
Cardinal Brady said, "The proposal of Pope Francis to hold a Worldwide Eucharistic Adoration as part of this Year of Faith is a wonderful idea: for one hour the faithful of the world are invited to be united in prayer.  Adoration of the Eucharist reminds us of the importance of the Sacrament of the Eucharist in our faith, a faith which will lead us to bring the message of Christ to our homes, our families, our communities and our world.  This opportunity for Eucharistic Adoration brings to mind the theme of the 50th International Eucharistic Congress held in Ireland last year: 'The Eucharist: Communion with Christ and with one another'."
Cardinal Brady continued, "Eucharistic Adoration is a period of time set aside for prayer before the Blessed Sacrament which Catholics believe is the Real Presence of Jesus Christ in Holy Communion.  I encourage the faithful to attend their local church on Sunday afternoon and to pray before the exposed Blessed Sacrament for the specific intentions that Pope Francis has set out for this Worldwide Eucharistic Adoration."
Below is a video where Pope Francis presides over the Adoration of the Blessed Sacrament in St. Peter's Basilica together with the parishes throughout the world.