Camino de Santiago de Compostela
(Way of Saint James)
Background
Of Jesus's twelve apostles, perhaps less is known about Saint James than any other. The brother of John, he was known for his temper and for being one of Jesus's first followers, and as the first to be martyred. Little is known about his travels or ministry after Christ's resurrection, but Spanish legend holds that James brought the Gospel to the Iberian Peninsula, although with little success. After James returned to the Holy Land, he was decapitated in 44 A.D, by order of Herod Agrippa. His disciples are said to have smuggled his body to the coast, and put to sea on a boat without sails or oars. Somehow, the boat made its way across the Mediterranean and up the Atlantic coast, arriving at Pardón in Galicia, from where his body was taken and buried in the town that would ultimately come to bear his name, Santiago de Compostela.
Almost eight centuries later, in 813, a hermit named Pelayo had a vision of a star shining brightly upon a nearby field, and digging there he found the long-forgotten bones of Saint James. Gradually, the cult of Santiago grew, and by the twelfth century Santiago had been propelled to the forefront of the Christian world as a major pilgrimage destination, on par with Rome and Jerusalem. A plenary indulgence could be gained by those who made the long pilgrimage to worship at the bones of St James in Santiago's cathedral. The first guidebook was published in the 1130s, and it is widely reported that Saint Francis made the pilgrimage in 1214, then walked back to Assisi, arriving in 1215.
The Camino Today
After the middle ages, the pilgrimage almost died out, with only a few pilgrims arriving at Santiago each year by the 1980s. However, the last few decades have seen a huge resurgence in interest in this ancient route, and now thousands make the journey each year. They take one of dozens of pilgrimage routes to Santiago de Compostela. Traditionally, as with most pilgrimages, the Way of Saint James began at one's home and ended at the pilgrimage site. However a few of the routes are considered main ones. Whenever St. James's Day (25 July) falls on a Sunday, the cathedral declares a Holy or Jubilee Year. Depending on leap years, Holy Years occur in 5, 6 and 11-year intervals. The most recent were 1982, 1993, 1999, 2004 and 2010.
The most popular route is the inland Camino Francés, which in 2010 saw 190,000 awarded the Compostela, the certificate granted at Santiago to those who successfully completing a pilgrimage of at least 100Km on foot, or 200Km by bicycle or donkey. By comparison, the costal route, the Camino del Norte, had 18,000 pilgrims, and the Camino Primitivo had 8,000. A unique element of the Camino is the pilgrim passport, or credenciál, which identifies you as a pilgrim, or peregrino, and entitles you to accommodation at nominal rates at the dorm-style Alburges along the route. Pilgrims typically walk 20 to 30 KMs per day, starting around 7 A.M. and finishing mid-afternoon. Each Alburge, and most restaurants, cafes and churches, will stamp your credenciál as you pass, leaving you with a unique personalized memento of your trip. A popular local saying is "Touristas Manden; peregrinos agradecen" ("tourists demand; pilgrims give thanks"), a good mantra to adopt for such a journey, and perhaps to keep with you afterwards.
The Camino can be walked at any time, although accommodation is easier to find from March to September, and it can be walked any year, and the Holy Years can be quite busy. The next Holy Years will be 2021, 2027 and 2032, so get ready, and Buen Camino!
Camino del Norte: note yellow arrow marking the Way.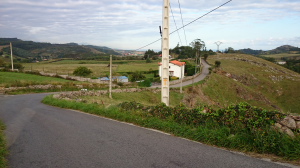 A forested section of the Camino del Norte.