Cardinal John D'Alton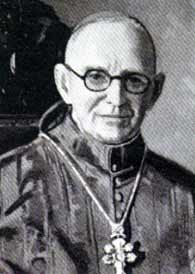 Born on 11 October, 1882, in Claremorris, Co. Mayo, John D'Alton studied at Blackrock College, Dublin, Holy Cross College, Clonliffe, University College, Dublin, and the Irish College, Rome. He was ordained a priest for the Archdiocese of Dublin on 18 April, 1908, in St John Lateran's Basilica, Rome. He undertook post-graduate studies (1908-10) gaining a Doctorate in Divinity in Rome and an MA in UCD. He was a member of the staff of St Patrick's College, Maynooth from 1910 to 1942, during which time he held the chairs of Ancient Classics (1912), and Greek (1922), and the offices of Vice-President (1934), and President (1936). He was appointed coadjutor Bishop of Meath with right of succession on 7 April, 1942. He was ordained a Bishop on 29 June,1942 and became Bishop of Meath on 16 June, 1943. He became Archbishop of Armagh on 13 April, 1946, and was named a Cardinal on 12 January, 1953, and was assigned the Titular Church of St Agatha, Rome. He died on 1 February 1963 in Dublin and was buried in the grounds of St Patrick's Cathedral, Armagh. His episcopal motto was Judicium Sine Ira (Judgment Without Anger).
In 1952 he became the first member of the Irish Hierarchy to receive an honorary degree from Queen's University, Belfast, when he was conferred with a Doctorate in Literature. Six years later the National University of Ireland conferred on him the honorary degree of Doctor of Laws. His name is included on a marble tablet in the Portico of St. Peter's Basilica, Rome, naming the Bishops who attended the definition by Pope Pius XII of the Dogma of the Assumption of the Blessed Virgin Mary into Heaven on 1 November, 1950.
Abstracted from Bishops of Ireland 1870-1987, by Rev. Bernard J. Canning