Cardinal Tomás Ó Fiaich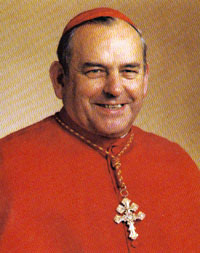 Born on 3 November, 1923, in Cullyhanna, South Armagh, in the Archdiocese of Armagh, Tomás Ó Fiaich was educated at St Patrick's College, Armagh, St Patrick's College, Maynooth, and St Peter's College, Wexford. He was ordained a priest on 6 June, 1948 for the Archdiocese of Armagh. He spent his first year of ordination as assistant priest in Clonfeacle parish. He undertook post-graduate studies in University College Dublin, (1947-50), receiving an MA in early and medieval Irish history; he also studied at Louvain University, Belgium, (1950-52), receiving a licentiate in historical sciences. During this time he travelled widely across Europe researching the work and influence of the early Irish monks in Europe, a topic on which he was an acknowledged authority. In 1953 he was appointed lecturer in modern history at St Patrick's College, Maynooth, and professor of same in 1959. He became Vice-President of the College in 1970 and President in 1974. He was appointed as Archbishop of Armagh on 18 August, 1977. He was ordained a Bishop on 2 October, 1977 in St Patrick's Cathedral, Armagh. He was created a Cardinal in Pope John Paul II's first consistory on 30 June, 1979. He died on 7 May 1990 and was buried in the grounds of St Patrick's Cathedral, Armagh. His episcopal motto was Frates in Unum (Brothers in Unity).
A renowned historian who published widely Cardinal Ó Fiaich had a particularly love of Irish history. As Cardinal he received Pope John Paul II on his Papal visit to Ireland in 1979 but deeply regretted that due to the political situation the Holy Father was unable to visit Armagh City. He was Archbishop during the particularly difficult time of the H-Block hunger strikes. Cardinal Ó Fiaich will long be remembered as a very pastoral man with the extraordinary capacity to remember names and faces of people he may have only met once and to make connections with their relatives. He was a man who liked nothing better than to sit among his flock sharing stories with them. He constantly maintained that much more united Catholics and Protestants in Northern Ireland than divided them, and declared himself ready to meet any person, anywhere, at any time, if the cause of peace and reconciliation could be served.
Abstracted from Bishops of Ireland 1870-1987, by Rev. Bernard J. Canning