Council for Justice and Peace, Lenten Reflection: The Crisis For People Seeking Refuge
The Council for Justice and Peace has created a Lenten Reflection entitled "The Crisis for People Seeking Refuge". In this short resource, the CJP invites all to reflect through the 'See, Judge and Act' model.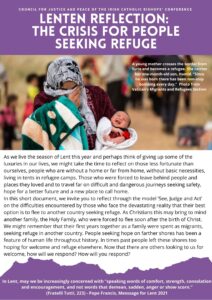 We are all called to recognise and consider the great difficulties encountered by those who face devastating realities that force them to believe that their best option is to flee to another country seeking refuge. In seeing an recognising these difficulties we are called to discern our own responsibilities, seeking ways in which we can take positive action to help and assist all seeking refuge in todays world.
Click here to access the resource in PDF format
For more information on the Council for Justice and Peace see www.justiceandpeace.ie