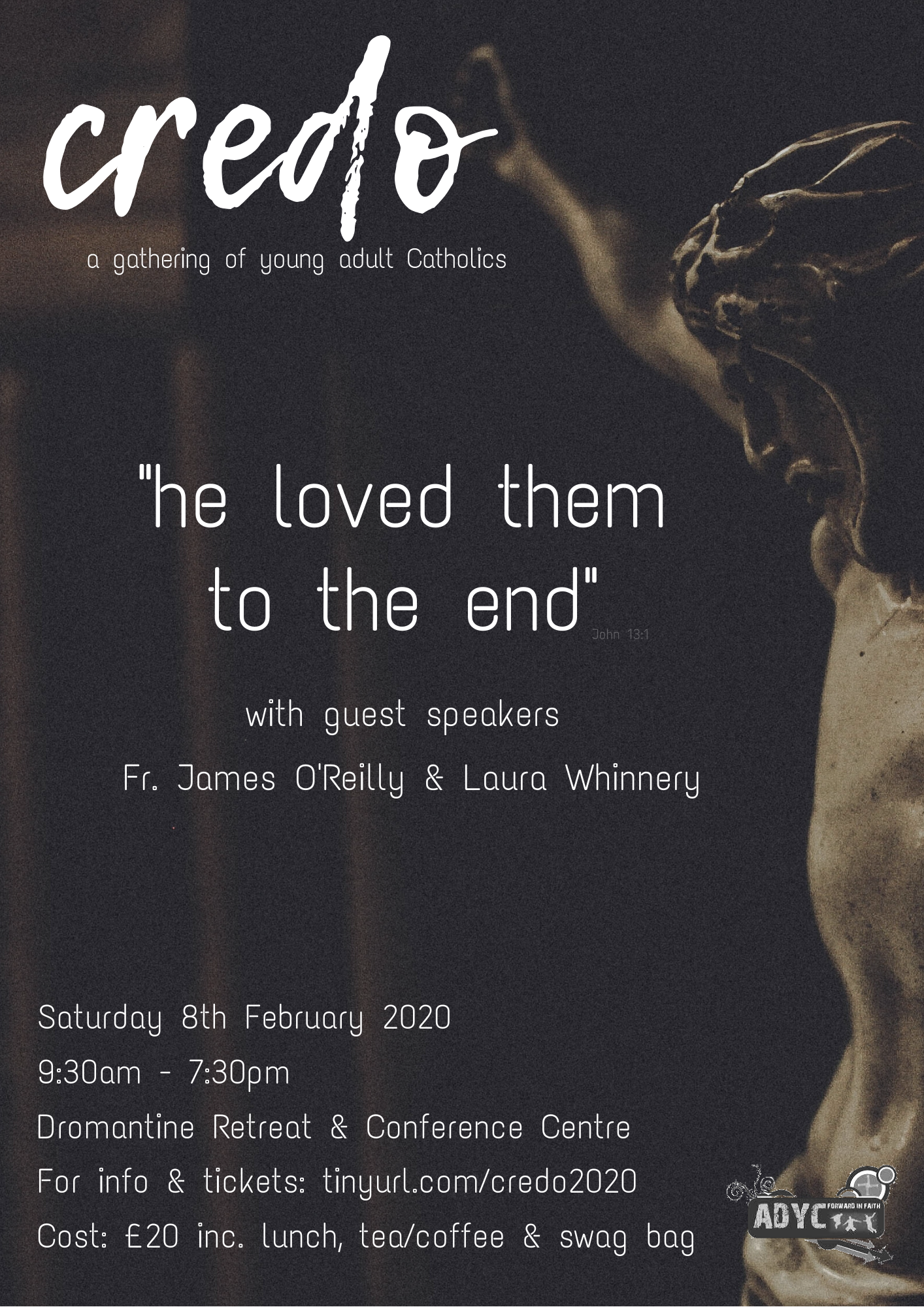 Credo is a gathering of Catholic Young Adults, in association with Armagh Diocesan Youth Commission.
Theme: 'He loved them to the end' – John 13:1
Purchase your tickets here:https://www.eventbrite.co.uk/e/credo-2020-tickets-83539949237
Credo is an opportunity for you to get away from the chaos of everyday life and gather with other like-minded Catholics for a relaxing day of faith talks, workshops, adoration, praise, confessions and Holy Mass, as well as lunch, tea/coffee on tap & a swag bag!
We are delighted to have Fr. James O'Reilly & Laura Whinnery as our guest speakers this year. They will speak on this years theme of 'He loved them to the end'.
We look forward to seeing you and are praying for you all as we prepare to gather on 8th February 2020 in Dromantine Retreat Conference Centre.
OUR SPEAKERS:
Father James O'Reilly is originally from Poleglass, Belfast. Ordained to the priesthood on 12th June 2016. Prior to his acceptance to study for the priesthood in 2010 James, a graduate of St. Mary's University Belfast, spent a year living and serving as part of a missionary team in Detroit, Michigan. Upon returning home, James spent a further year working for Youth Initiatives; a Christian youth organisation based in West Belfast. Fr. James O'Reilly was appointed to the Parish of Antrim in October 2016.
Laura Whinnery is the Alpha NI youth & schools worker and is the former Faith Development Worker for Youth Initiatives where she ran school retreats and prayer groups for young people who wanted to explore their faith and connect with their local parish. She is passionate about Jesus, politics, jazz, gin and bad jokes.
If you have any questions, please email: [email protected]
NB: Please email any dietary requirements in advance, as those provided on the day cannot be catered for.