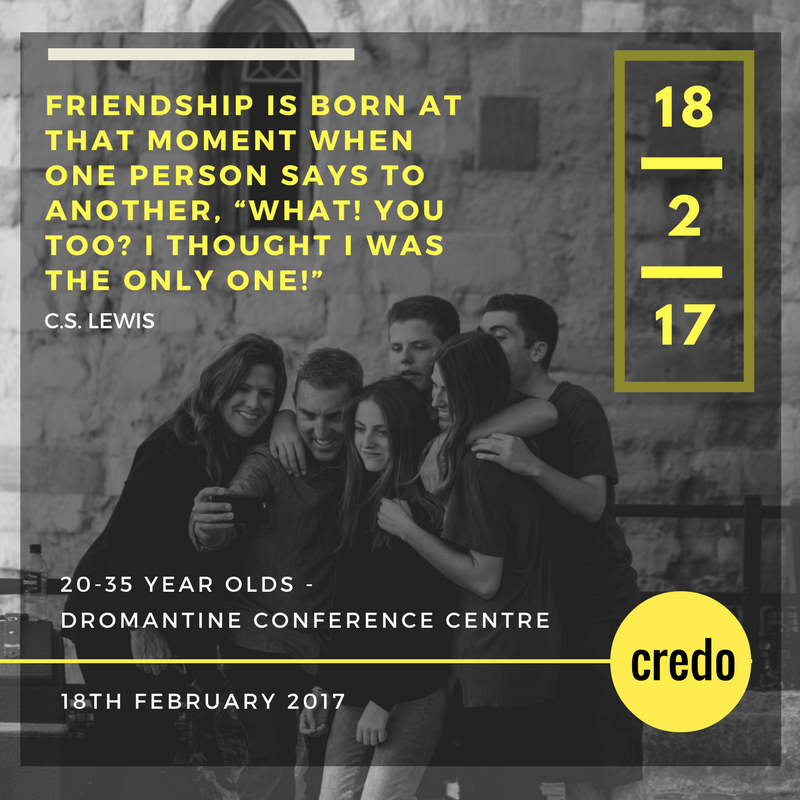 I invite you to attend a new initiative created by the Armagh Diocesan Youth Commission (ADYC) called CREDO. CREDO is a Young Adult Conference for adults aged 20 – 35 years.
ADYC has always been developing programmes and events for youth but we realise now in a time of new evangelisation that there is a necessity to meet the needs of our young adults. CREDO will give the opportunity for young adults to seek ways to develop their faith and to meet likeminded Catholics.
ONLINE BOOKING HERE: https://www.eventbrite.co.uk/e/credo-young-adult-conference-tickets-31284554946
Details of the conference are as follows:
Date:
Saturday, 18th February 2017
Time:
10:00 a.m. – 7:00 p.m. (Vigil Mass 6:00 p.m.)
Venue:
Dromantine Retreat & Conference Centre, Newry
Keynote Speaker:
Sr. Maire McAleer (Sisters of Adoration and Reparation, Falls Road, Belfast)
Workshops include:
Passing on the Faith in Modern World, Rediscovering Your Vocation Through Scripture, Dead to the World- Alive in Christ (inspired by the life of the saints), & Spirituality.
Cost:
Upon arrival/registration to conference venue, we will request a fee to cover refreshments