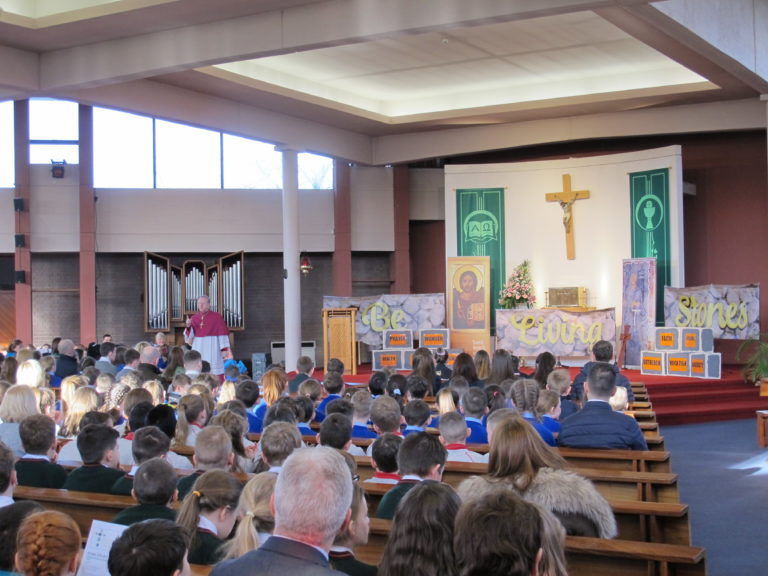 The theme this year was about celebrating the work that takes place in each of our Catholic schools. Catholic schools are much more than building made of blocks and concrete. The procession today had pictures of the Mourne Lace Walls which have stood for hundreds of years high up in the Mourne countryside, where the wind and the rain and all the storms of the Winter have not managed to topple or damage these walls. The walls themselves are made from rocks of different sizes usually the large rocks are at the base and smaller rocks are gradually used to give it height, but what keeps the stones from falling is the gaps that are left to allow the wind and the rain to blow through the stones rather than topple the wall. Our schools have to withstand enormous pressure from outside. The values that we hold so dear are often challenged by the world in which we live. It is important for us to take steps to ensure that our faith communities can withstand the attacks and erosion that is part of modern living. Ten Students assembled a wall with those values written on the face of the building blocks and like the Mourne walls will leave spaces to symbolise how strong and determined we need to be in defending what is ours. These values include; Faith, Community, Prayer, Wonder, Outreach, Family, Others, Vocation, Diversity, Health. We are called to be Living stones and we have written on the Mourne Wall pictures ' Be Living Stones'
Students from St Marys PS Mullaghban led the singing for us joined by students from St Joseph's PS Dundalk. We were treated to a drama exploring the Gospel Story of the wise and foolish builders by Students from St John the Baptist College Drumcree. Our bidding prayers were led by school principals, students and members of staff from schools throughout the Archdiocese. Symbolic stones representing each school faith community were placed in a cairn in front of a penal Cross. Archbishop Eamon led the prayer and spoke enthusiastically to all present encouraging us all to be real living stones, drawing on those special teachers that had shaped his own faith journey growing up in Derry. Line and Irish dancers from St Josephs College Crossmaglen and St John's Drumcree greatly added mush to a truly festive celebration. Those present were urged to bring home a renewed enthusiasm to live these values and to make CSW a living reality in their own school faith community next week.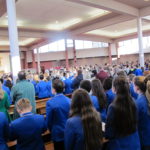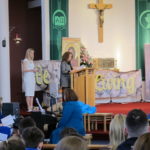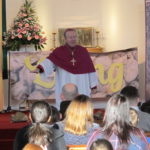 Messages from Teachers present.
Thank you for a lovely ceremony this morning. It was just fantastic, you all deserve so much praise.
The kids loved it too, one boy (who is generally a rogue) said, 'that was class Miss'. High praise indeed!!
All went well yesterday – thank God.
A massive well done today – this was my very first time at CSW launch in my teaching career. I found it most impressive as did the group of students I brought.
Many thanks for today. It was absolutely beautiful. Lovely to see a full Church. A real reflection of Catholic Education.
Absolutely perfect. Enjoyed every minute.
Best ever !!
It was a real joy to be present and to see the children so involved and focussed on all that happened.
The led reflection and meditation was just spot on. Can we have a copy to use here in our own celebrations?
Just what we needed. Going home re-energised and filled with new hope.
Congrats to all the team, to all the schools who helped and participated. We loved it.