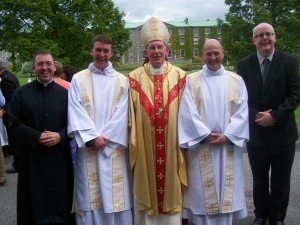 (Barry Matthews, Seminarian, Rev Aidan McCann, Cardinal Seán Brady, Rev Brian Slater, Damien Quigley, Seminarian)
Cardinal Séan Brady ordained fifteen seminarians as deacons on Sunday, 1 June 2014, the Solemnity of the Ascension of the Lord, at Mass celebrated in the College Chapel of the national seminary in Saint Patrick's College, Maynooth. Two of the newly ordained deacons are from the Archdiocese of Armagh. They are, Aidan McCann a native of Cookstown and Brain Slater from Coalisland. Congratulations Brian and Aidan!
Please see Cardinal Brady's homily below from today's Mass. All of the priests of the College community con-celebrated this ordination Mass at which family, friends and other priests were in attendance.

Homily of Cardinal Seán Brady
for the Diactonate Ordination at Saint Patrick's College, Maynooth
on the Feast of the Ascension of Our Lord
Sunday, 1 June 2014

Last Friday evening, in Saint Patrick's Cathedral, Armagh, Maciej Zacharek, a native of Poland and a student of this College, was ordained priest. A huge crowd – composed mostly of members of the Neo-Catechumenal Way – packed into the Cathedral. Three bus loads came from Cork and Kerry. More than 30, family and friends, came from Poland. There were scenes of great joy – lots of children present – and very beautiful music. Afterwards, one of the Polish visitors came to speak to me in the Sacristy. "Over one thousand years ago" he said, "monks from Ireland came to Poland to bring us the Good News of Jesus. Today we are here to repay the debt".
Those words filled my heart with hope and joy. I have thought about them often ever since Friday. As I did so, I realised that those monks of 1,000 years ago, our own kith and kin, went to Poland in obedience to the command of Jesus:"Go, make disciples of all nations I am with you always, yes to the end of time".
They did so because almost one thousand years earlier another group of disciples had heard those very same words from the lips of Jesus before he ascended into Heaven. This is Ascension Day. It is a great feast of hope. Jesus is beyond our sight. He has gone, not to abandon us, but to be our hope – for he sits at the right hand of the Father to intercede for us. Where he has gone, we hope to follow. Meanwhile God's great plan for the whole world is, slowly but surely, being rolled out and carried out. Long hidden but now revealed – the plan involves the restoration of all things in Christ as their one Head.
It is being accomplished through the saving Cross of Christ and the call of all the nations to follow Christ. To some it appears as nonsense, to others, the idea of the Saviour, dying as a criminal on a cross was a scandal – but to those who are being saved it is the wisdom of God. Now the plan has been revealed and it is certainly being fulfilled.
Yesterday afternoon I was in Saint Patrick's Church, Dungannon, for the first of the two annual Confirmations. Here again it was a great joy to behold. One hundred young people – the majority, I would say, coming from the New Irish – East Timor – India – Poland – Portugal – Lithuania and all dressed so elegantly in native costumes with garlands of flowers and approaching the sacraments with such deep reverence and respect. What a joy to see and what a source of great hope.
And now, today, again in yet another Church, dedicated to our National Apostle, Saint Patrick's, Maynooth, we gather on this Ascension Day to celebrate yet another Festival of Hope.
Here, one thousand years later, the fifteen men to be ordained Deacons – they too have heard the words: "Go make disciples of all nations" and have taken them to heart. Like those who have committed themselves to a noble cause, I am sure they experience something of what the eleven disciples felt when they were re-united with Jesus in Galilee. Yes, there may have been difficulties along the road in the past, but today they are here on this mountain. They know that no power in Heaven or on earth will conquer what they stand for. They too can confidently go out into the world, teaching all nations to respect the values they believe in. After the ascension, when Jesus made his triumphant entry into Heaven, whatever happens, now, or in the future, His cause will live forever.
Gentlemen, I congratulate you – that after a long and rigorous course of discernment and formation, you have been found worthy. I thank, most sincerely, all those who have contributed to that formation. The list is a long one and it begins with parents. Only God knows the full list and God will most certainly reward the contribution made.
Saint Paul set the bar high when he said that Deacons must be respectable, not double-tongued, and moderate in the amount of wine they drink and with no squalid greed for money. They must hold to the mystery of the faith with a clear conscience. We rejoice that you have been found worthy and that you now are ready to take on the three great commitments of every Deacon in the Latin Church.
To remain celibate for the sake of the Kingdom of Heaven and in life-long service to God and human kind.
To hold the Mystery of Faith and to proclaim that belief in word and action
To pray and to develop a spirit of pray in your life – especially by reciting, faithfully, the Divine Office so as to shape your life, according to the example of Christ.
A word about each of these –
Today you commit yourselves to celibacy, not out of any disregard for marriage and the dignity of the married state. It is not a case of being free from responsibility but of being free for something else. You have chosen to remain celibate so as to be able to follow Christ, with an undivided heart. You are choosing not to marry so that you may be free for service to the things of God and the service of others, besides one's family. That is the aim. It takes a life of prayer and vigilance to keep our eyes firmly on Christ, who came and remained unmarried, not in order to be served but to serve and to give his life to the teaching and healing and guiding of others.
The famous scientist – Sir Isaac Newton was once asked to justify his belief in God. He bent down in the garden where he was standing and picked up a blade of grass. That was enough to make him believe in God. Today there are many looking for help to justify their belief in God. Your studies, your meditation and your examination of your life have prepared you well to proclaim your faith in word and action – and there are many waiting to hear and see your words and actions. But, as you do so, do it humbly and patiently – remembering that faith is a gift – an ever precious but sometimes fragile gift. We must be gentle with the broken reed and make sure not to extinguish the smouldering flame.
Your next great commitment – and it is a great commitment – is to maintain and deepen a Spirit of Prayer. As we pray the Breviary we remember that we are doing something which the Church has done down through the centuries from very early times.
In this way the Church – the Body of Christ – fulfils the command of Christ, its Head, to pray without ceasing. Once again, as with the commitment to live a celibate life, the commitment is pray is taken on, not primarily for one's own sanctification but to give praise to God the Father and to pray for the salvation of the world. These are serious and heavy responsibilities. We rejoice with you as you decide to undertake them.
As Pope Saint John Paul said on the night of his election as Pope, speaking of his new responsibilities: "I was afraid to accept that responsibility, yet I do so in a spirit of obedience to the Lord and total faithfulness to Mary".
I am sure that these are your sentiments also. Please be assured of the prayers of all of us as you proceed humbly, but confidently, to priesthood.
AMEN