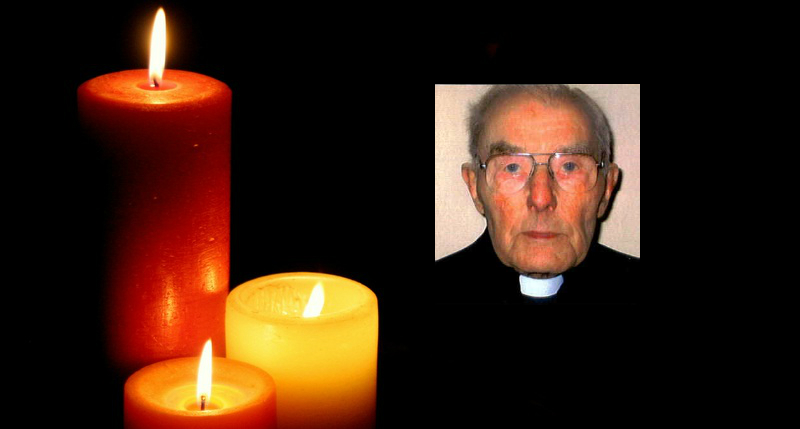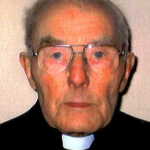 The Archdiocese of Armagh is sad to announce the death on Friday, 24 October 2014  of Canon Michael Ward PE, peacefully, at his residence.  Funeral arrangements are as follows:
Reposing at 6 Augherainey Close, Donaghmore, Co Tyrone, BT70 3HF;
Removal on Saturday, 25 October to the Church of St John the Baptist, Galbally (Parish of Donaghmore) for Vigil Mass at 7.30 pm;
Requiem Mass on Monday, 27 October at 1.00 pm;
Burial afterwards in St Patrick's Cemetery, Donaghmore.
Our sympathies are with his family circle, brother priests and his housekeeper, Ms Betty McGarrity. May he rest in peace.

Biographical Details
Very Rev Canon Michael Ward PE
Died 24 October 2014 peacefully at home
Born 17 January 1917, in Parish of Carrickmore
Studied      
St Patrick's College, Armagh             1930 – 1934
St Patrick's College, Maynooth          1934 – 1936
Pontifical Irish College, Rome            1936 – 1941
Ordained 12 April 1941 in the Basilica of St John Lateran, Rome
Appointments
| | |
| --- | --- |
| Reader, Termonfechin | 1943 – 1945 |
| Chaplain, Daisyhill Hospital | 1945 – 1946 |
| Curate, Magherafelt | 1946 – 1951 |
| Curate, Cooley | 1951 – 1962 |
| Curate, Derrynoose | 1962 – 1973 |
| Parish Priest, Aghaloo | 1973 – 1982 |
| Parish Priest, Donaghmore | 1982 – 1995 |
| Pastor Emeritus (residing in Donaghmore) | 1982 – 2014 |
Appointed member of the Metropolitan Chapter (Canon) 1982