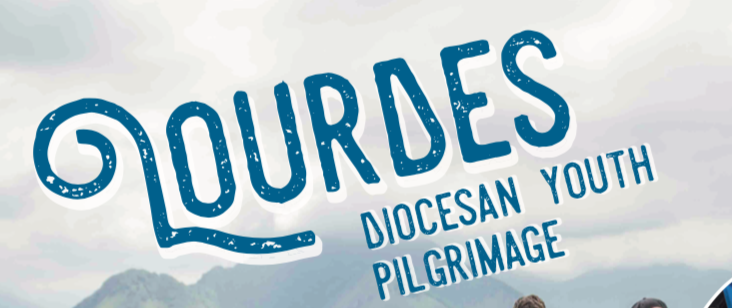 One of the unique moments in the calendar of the Archdiocese of Armagh, is the Diocesan Pilgrimage to Lourdes. Pilgrims join us from across the diocese, young and old. We journey as families and friends, people in good health and pilgrims that are less able and in need of care are at the heart of our Lourdes faith experience.
We take part in the torchlight procession and Eucharistic procession. We also gather for the International Mass along with thousands of people from all over the world. We spend time to journey in faith to visit the grotto of Our Lady of Lourdes and take those moments of stillness and prayer with Mary. There is Mass celebrated daily, and many highlights include anointing of the Sick in the Rosary Basilica and Mass at the Grotto.
Our youth team offers enthusiastic help and are fully integrated into the pilgrimage. The role of the youth team is diverse but very rewarding by helping to push wheelchairs for assisted pilgrims and building a positive rapport with all pilgrims. Our youth help with the liturgies and other practical matters of the pilgrimage programme such as: event planning, carrying banners and equipment. The youth team also share in special times of prayer together and also enjoying recreational times too. Our young people are fully supported by their youth leaders, staff and chaplains.
People come on pilgrimage for many reasons. A pilgrimage is a special journey of the self, experienced in a place. Lourdes is a place of joy where the sick and less able, find purpose in their lives; where answers to questions are found; where isolation is replaced by the community of faithful; where faith is renewed and found. Lourdes is also a place to be explored and enjoy the company of others.
If you are a young person (15-18 years old) and thinking, 'I would love to go to Lourdes' then further details below or click the expression of interest form/or application form below:
St. Bernadette, pray for us!
The Archdiocese of Armagh Pilgrimage to Lourdes is from 15 – 21 May 2019 (6 nights).
Youth applying must be young person aged 15-18 years old
The cost of youth participating in the pilgrimage is €600 with Fundraising optional
This includes, flights, transfers, accommodation, full board, half day trip and a pilgrimage T shirts.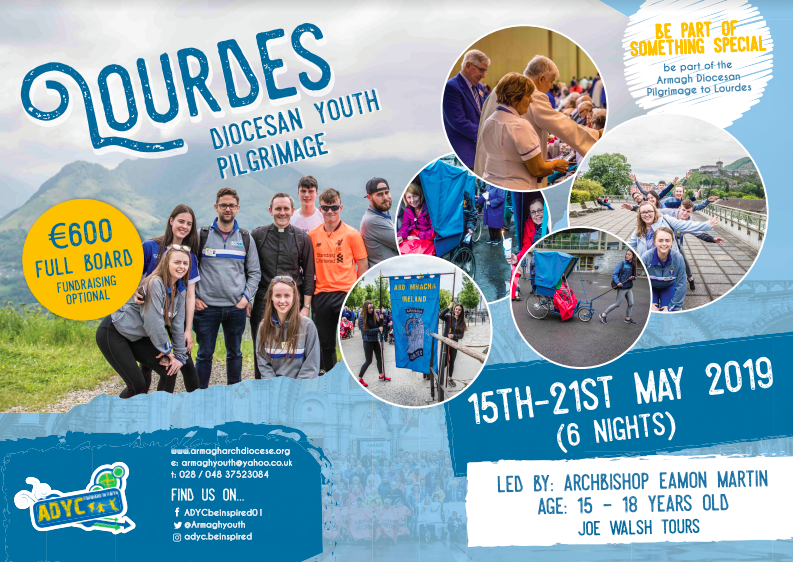 Alternatively download our booking forward here: ADYC Lourdes – Printable Booking Form
Please, complete and return (hard copy) to:
Armagh Diocese Youth Commission
Ara Coeli
Cathedral Road
Armagh
BT61 7QY
To book your place, please complete booking form and return with a deposit of €150 to the above address.
Limited youth places available. Book now to avail of a place.