Holy Family Parish, Dundalk, says farewell to the Marist Fathers.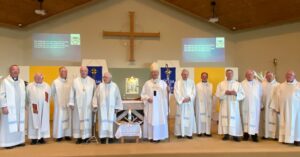 The parishioners of Holy Family Parish, Dundalk, honoured the Marist Fathers and their contribution to their parish over 40 years at a function on Friday night (27th May). The event began with Archbishop Eamon Martin celebrating Mass in Holy Family Church at 7pm. Bishop Michael Router preached the sermon and the Mass which was concelebrated by several Marist Priests who had served in the parish over the years along with their European Provincial Fr. Martin McAneney CM, the Vicar Provincial Fr Jean-Marie Bloqueao, and the Provincial of the Redemptorists Fr. Dan Baragry.
A reception was held after the Mass in Gaelscoil Dun Dealgan and the guests of honour were Fr. Edmund Duffy and Fr. Frank Corry, the last Marists to serve as curates in Holy Family. Unfortunately, Fr. Cormac McNamara who was the last Marist Administrator is working in Spain and unfortunately could not travel home for the event.
The Marist Fathers left Holy Family Parish in August 2021 and the parish has been administered by the Redemptorists, Dundalk, since then.
Click Here for Bishop Michael Router's Sermon – Farewell to the Marist Fathers which was preached in Holy Family Church Dundalk on 27th May 2022.