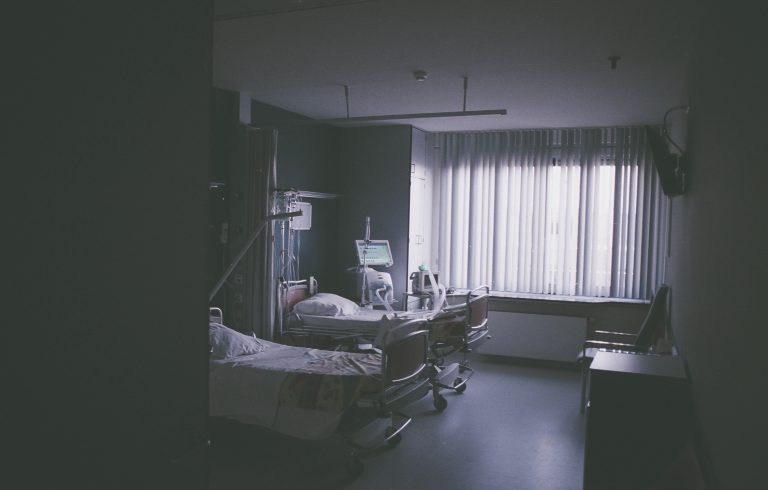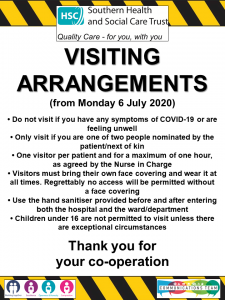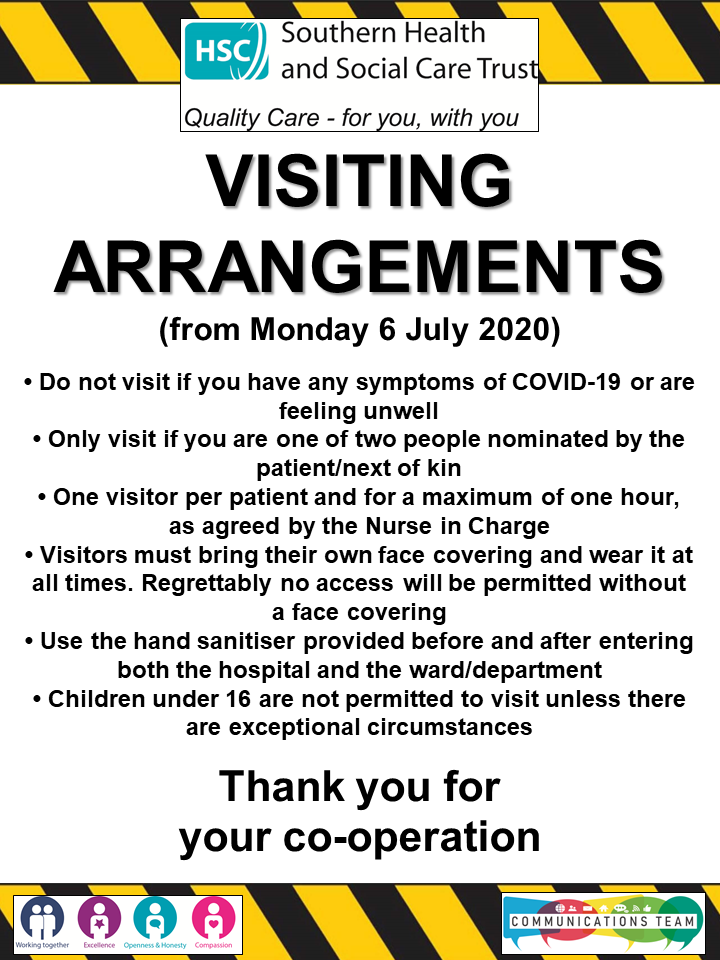 "I WAS SICK AND YOU VISITED ME" – HOSPITAL CHAPLAINCY TO RESUME ROUTINE VISITS
On behalf of the Chaplaincy Teams across the Southern Trust, we are delighted to say that routine visitation of wards by chaplains will re-commence from Monday July 20th. Emergency on-call cover continued to remain in place throughout the Covid-19 pandemic and returning to wards for more routine visits is an important step forward at this time.
As you can imagine, it will be a gradual and tentative re-engagement as we encounter the "new normal" in hospitals. It is a very changed environment into which we step. For example, given the visiting restrictions now in place (see attached), we will be avoiding visiting hours as only one nominated person can visit a patient at a time.
While visits by the Chaplaincy Teams are permitted to resume, visits by parish clergy / ministers are not yet permitted by the Southern Trust in their hospitals. This is due to the strict limits on visitor numbers and infection prevention & control procedures. Please refrain from visiting parishioners in hospital at this time. If you know of a parishioner who is in hospital and would like a visit from the Chaplaincy Team, please ask them to consent to the visit when asked by the nursing staff. Alternatively, a member of their family can ask the hospital to call us. You can always contact the hospital and ask to speak to the chaplain on call.
On behalf of the Chaplaincy Teams across the Trust, we are deeply grateful for your support in so many ways. We know you join with us in continuing to pray in a special way for those who are sick at this time and those who care for them.
If you have any queries about hospital chaplaincy at this time, please feel free to contact any of the chaplains.