Joint Statement from the Archbishops of Armagh condemning attempted murder of PSNI Officer in Omagh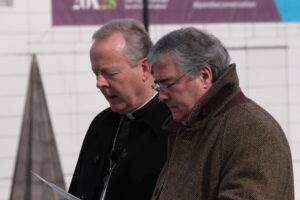 It is with great shock and a sense of disbelief that we have learned of the horrific gun attack on a member of the PSNI in Omagh. It is impossible to find appropriate words even to describe let alone condemn such an act of depraved violence against a police officer who, as a public servant, works for the protection and well-being of the whole community. Our thoughts and prayers at this time, along with those of our parishioners, are with the officer, and with his colleagues, family and friends.
As the Catholic and Protestant Archbishops of Armagh, we are united in our condemnation of this abhorrent attack on someone serving our community. Regardless of who they think they are, the individuals who planned and carried out this shooting represent a deep seated criminal threat to the health and peace of our society and it is important that we do everything in our power to prevent such things from ever happening again.
The Most Revd Eamon Martin, Roman Catholic Archbishop of Armagh & Primate of All Ireland
The Most Revd John McDowell, Church of Ireland Archbishop of Armagh & Primate of All Ireland