The Pro Life Campaign is helping organise another National Vigil for Life, to be held on Saturday, 8th June from 3 to 4pm at Merrion Square Dublin. Around this time the Government will be publishing the actual legislation that will come before the Dáil.
As the heads of the Bill show, the legislation will not be restrictive as senior members of the Government claim.  What matters is not the assurances that are being given by Ministers but what is in the legislation. It is clear that the Government is proposing an abortion regime with no time limit, and a suicide ground similar to legislation that has led to wide-ranging abortion in other jurisdictions.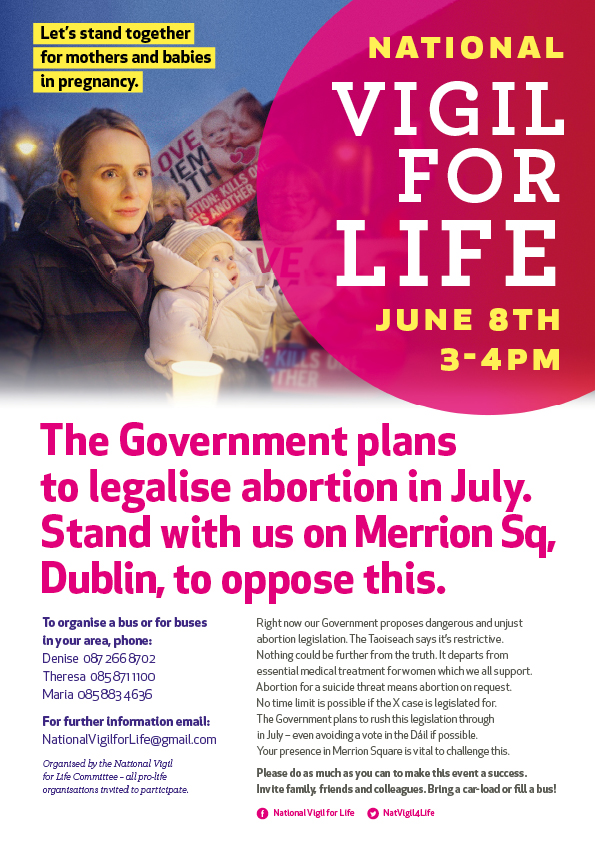 Right now our Government proposes dangerous and unjust abortion legislation. The Taoiseach says it's restrictive. Nothing could be further from the truth. It departs from essential medical treatment for women which we all support. Abortion for a suicide threat means abortion on request. No time limit is possible if the X case is legislated for.
The Government plans to rush this legislation through in July even avoiding a vote in the Dáil if possible. Your presence in Merrion Square is vital to challenge this.
Please do as much as you can to make this event a success. Invite family, friends and colleagues. Bring a car-load or fill a bus!