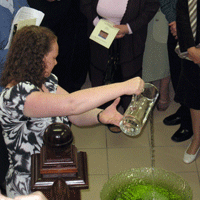 The Diocesan Pastoral Centre, first opened by Cardinal Daly in 1993, recently moved from Mount Oliver to the Magnet building in St. Patrick's parish in Dundalk.
Welcoming the guests to the Pastoral Centre for the opening, Sr Rhoda, the Centre's director said:
There are two very special groups of people, who really create the ambience of hospitality and care for all who use the centre. First our very able staff most of whom are employed by Mount Oliver and District Community Employment Scheme and have worked tirelessly to prepare the building for today.
I would like to pay special tribute to our second group of people: our Volunteers in the various programmes – Beginning Experience, Rainbows, Bereavement Support, and Wider Circle. These people are the backbone of the Centre. Without them a spark of life would be extinguished. They are a beacon of hope for many people, embodying the message of Jesus in their lives and carrying it out in their service to others.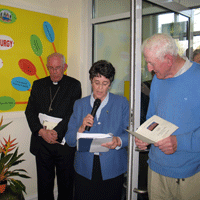 My Dream for all who use this lovely new centre now and in the future is that we will all be imbued with a new enthusiasm that will enkindle in our hearts and minds a loving compassionate creativity that will enable us to journey beyond our old limits toward new frontiers some of which are already emerging. The message of Jesus says this much more succinctly when He said 'I have come that you may have life and have it to the full'.
We wish Sr. Rhoda and all connected with the Armagh Diocesan Pastoral Centre every blessing in the days, months and years ahead.