Joined by the Administrator of Armagh Parish, Fr. Eugene Sweeney, and about a dozen clergy from around the diocese, the congregation heard Francis take the promises of obedience, and celibacy.  He has also promised to undertake the recitation of the Divine Office – daily – for the needs of the Church
Francis completed four years study at St. Patrick's College, Maynooth and is currently on placement in St. Peter's parish, Drogheda. He was joined at the ceremony by members of his family, as well as many friends, and those who have lead him during his studies (professors from the faculty in Maynooth were present, as well as other seminarians) and members of the various organisations with which he has had involvement – these include, St. Josephs Young Priests Society and members of Eucharistic Adoration groups from around the Diocese.  Francis is spearheading the Diocesan preparation for the 2012 Eucharistic Congress which will be held in Ireland.
A large congregartion was present for the ceremony, on Francis' home ground, so to speak.  Francis expressed his gratutude to all those who had assisted him on his journey thus far, and asked for continued remembrance in prayers as he goes forward in this next phase of the journey to priesthood.  The Deacon has some particular duties; He is to assist at Mass especially preaching when possible;  he can also preside at Weddings, Funerals and Baptisms – although he cannot celebrate the Mass, hear Confessions nor anoint the sick.  A Deacon must also have a special care for the poor and those on the edges of the Church & society.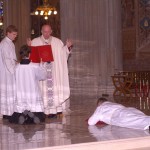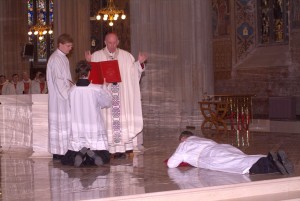 Cardinal Brady noted afterwards that the ministry of the Deacon must be concerned with Gospel values, and must echo the life of Christ – 'the one who came to serve, and not to be served'.  In living this spirit of service authentically, Francis, and indeed all ministers of the Church can show the face of Christ to the whole world.
Fr. Paddy Rushe, the Diocesan Vocations Director for the Archdiocese of Armagh, recalled his first meeting with Francis back in 2003.  'I had just been apopointed Vocations Director at the time', he said, 'and Francis was nearly the first man I met.  His desire to serve the Church was clearly evident from that time. We met together several times before Francis completed the necessary application process and was accepted for the Diocese'.  'As a 'late vocation', Francis represents many out there in the world who may have thought at one time or another, that they would like to explore the possibility of the Priesthood.  Francis' journey shows that one should never be afraid to explore the possibilities'. Fr. Rushe continued, saying that he was looking forward to working with Francis in the years to come, within the Archdiocese;
He asked for prayers for vocations, and especially for the other six (6) students for the Archdiocese who are currently in formation, as well as the six (6) men who are part of a group thinking of applying in September 2009. Fr. Paddy said; 'a wee prayer for myself and the commission in the diocese with responsibility for vocations would not go amiss either.' He ended by re-iterating the invitation to those who feel they may have a vocation to priesthood to contact him at Holy Redeemer Parochial House, Ard Easmuinn, Dundalk, Co. Louth; 042 9334259 (+353 42 9334259 from Northern Ireland); [email protected] Or to visit the website at www.armaghvocations.org