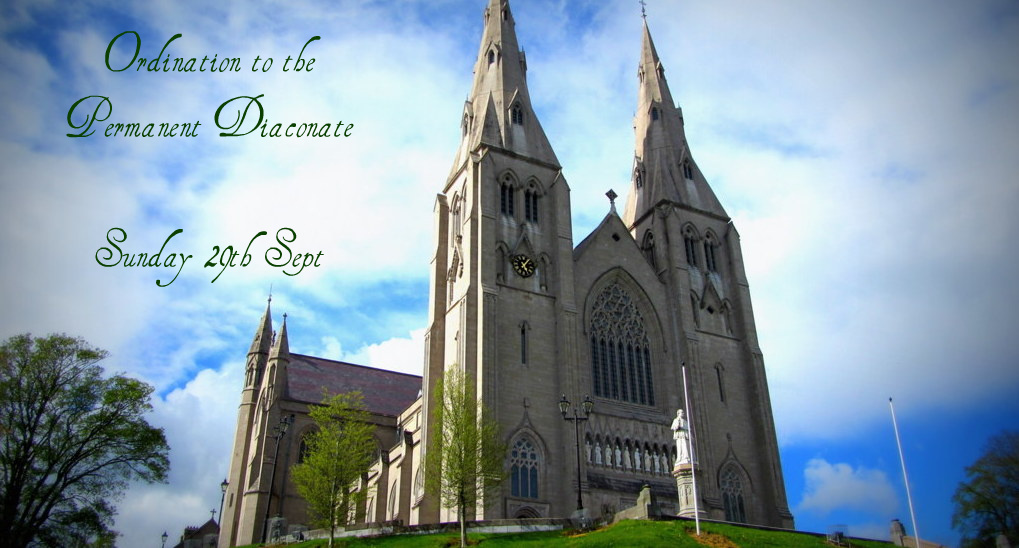 Sunday 29th September will be an historic day in the Archdiocese when the first Ordination to the permanent Diaconate will take place in St Patrick's Cathedral, Armagh. On that day five men, having completed three years formation and theological training, will be ordained as deacons for service in five parishes in the Archdiocese of Armagh.
The ceremony will be at 3pm and can be watched live using this link.
The ordinations mark an historic milestone in the illustrious history of the Archdiocese of Armagh. Cardinal Seán Brady, Archbishop of Armagh, will be the ordaining prelate for Sunday's ordination Mass and Archbishop Eamon Martin, Coadjutor Archbishop of Armagh, will preach the homily. Priests of the Armagh diocese will be in attendance at the Mass as well as those involved in delivering the theological, spiritual and human formation programme to the permanent deacons.
Speaking ahead of the ordination, Cardinal Brady said: "It is with a sense of great joy that we welcome Martin, David, Andy, Benignus and John into ordained ministry in the Archdiocese. It is my fervent prayer that their ministry will be a great source of blessing for them, their families and the people whom they are called to serve."
In 2001 the Irish Episcopal Conference got the go ahead from the Vatican to restore the Permanent Diaconate in Ireland. In 2005 approval was received for the norms for Permanent Diaconate. The first eight deacons were ordained last June in the Archdiocese of Dublin. Six other dioceses in Ireland have sought and are training deacons including  Armagh, Dromore, Kerry, Kildare and Leighlin, Kilmore and Waterford & Lismore.
The five men that are to be ordained are:
Andy Hegarty from Cookstown, who has been appointed to Dungannon Parish,
Martin Barlow from Portadown who has been appointed to Keady
Benignus Ndubuisi from Dundalk who has been appointed to St Patrick's, Dundalk
John Taaffe from Drogheda who has been appointed to Ardee
David Durrigan from Ardee who has been appointed to Drogheda.
We ask you to keep these men in your prayers as they prepare in these final days before ordination.
To learn more about the Permanent Diaconate within the Armagh Archdiocese click here.

Prayer for vocations
O God, Father of all Mercies,
Provider of a bountiful Harvest,
send Your Graces upon those
You have called to gather the fruits of Your labor;
preserve and strengthen them in their lifelong service of you.
Open the hearts of Your children
that they may discern Your Holy Will;
inspire in them a love and desire to surrender themselves
to serving others in the name of Your son, Jesus Christ.
Teach all Your faithful to follow their respective paths in life
guided by Your Divine Word and Truth.
Through the intercession of the Most Blessed Virgin Mary,
all the Angels, and Saints, humbly hear our prayers
and grant Your Church's needs, through Christ, our Lord. Amen.
FUNCTION OF A DEACON
The first responsibility of the Permanent Deacon is to be an effective visible sign of Christ who came to serve rather than to be served. Although most of these men will exercise their ministry on a part-time basis, they remain at all times a deacon, and they are called in their life-style, to reflect this. The ministry of the deacon is an expression of his being, an icon of Christ the servant. The normal areas of ministry which may be entrusted to deacons could be categorised under the general headings: Liturgical Functions, Pastoral and Faith Development. These include:
Liturgical
Proclaiming the Gospel at Mass

Preaching the homily

Assisting the priest at Mass (Sign of Peace and Dismissal)

Leading communion services, when need arises

Bringing the Eucharist to the sick at home and in hospitals (nursing homes)

Presiding at Exposition and Benediction of the Blessed Sacrament

The celebration of Baptism

Celebrating Marriages

Presiding at Funerals – (also removals, reception of remains, burials)
Faith Development
Participation in sacramental preparation programmes

Formation of Ministers of the Eucharist

Formation of Ministers of the Word

Formation of Altar Servers

Facilitating study of, and prayer with, the Scriptures

Facilitating the development of lay ministry

Chaplaincy to various parish groups

School chaplaincy
Pastoral
Visiting the sick

Visiting prisoners

Visiting the bereaved

Youth Ministry

Working with the poor and the homeless

Promoting awareness of the social teaching of the Church

Promotion of justice and human rights
A Permanent Deacon receives his mission from the Archbishop, and is assigned to work as a member of a team under the leadership of the Parish Priest. He is called to minister in close-collaboration with priests and with laity who are entrusted with various ministries. Deacons play a key role in the development and coordination of lay ministry, they are not intended to replace lay ministries. These men have been reminded that in a parish they find their role by negotiation, supporting what already exists and helping to address needs that aren't being met.