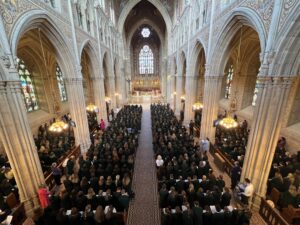 The Archdiocese of Armagh has launched a special Fundraising Campaign to support the ongoing maintenance and enhancement of the magnificent St Patrick's Cathedral, Armagh. This is an important year in the history of the Cathedral as it marks 150 years since the original dedication by Archbishop McGettigan on 24th August 1873.
Considerable resources are needed to maintain the character and preserve the heritage of the Cathedral, therefore, the fundraising campaign is now being launched throughout the Archdiocese of Armagh and beyond. People are being invited to become a regular donor as a "Friend of St Patrick's Cathedral" or to make a one-off contribution to mark this 150th year.
St Patrick's Cathedral was completed at a time of deprivation and famine and involved great hardships and sacrifices by succeeding generations. The last major renovation to the Cathedral took place more than twenty years but in such a sizeable building, exposed to the elements, there are ongoing and essential maintenance requirements. Examples of immediate priorities include renovations to the eye-catching Cathedral steps and entrance precinct, addressing rainwater ingress at eaves levels, repairs and replacement of lightning conductors, and the refurbishment of the historic Cathedral organ.
Recently, Archbishop Eamon Martin said "Looking ahead, we aim to secure a regular support and enhancement income of at least £200,000 per annum for this unique building. We are conscious that this is a challenging time for fundraising, but as we emerge from the Covid pandemic, we move forward convinced that the people of today and tomorrow need more than ever the light of faith and hope." He went on to say, "Join us as we preserve the treasured landmark and sacred space of St Patrick's Cathedral, for generations to come and help us to ensure that our Cathedral remains a living centre of prayer, tranquillity, and renewal for the next 150 years and beyond".
Further information about the Fundraising Campaign is available from Armagh Parish Office (028/048 37522813) or by emailing Caroline at [email protected]