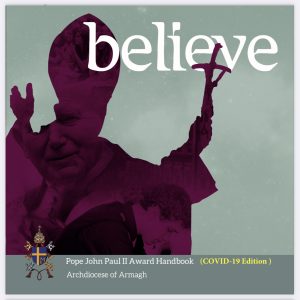 Launch Resources: Presentation to show to pupils before registration
Click Here to access safeguarding form for external organisations
Click Here for Leaders Resources
Click Here to access feedback form
Parish and Social Awareness Activity Factsheets for participants
Click here to access parish and social awareness activity factsheets
Catechesis Session-Reflective Journal & Resources
Click here to download the resources for completing the Reflective Journal
Through the Pope John Paul II Award, young people in the Archdiocese of Armagh will be enabled to take an active part in the life of their Church, in the life of their community and society, and also become more aware of the teaching and role of the Catholic Church in the world. This will enable young people to engage at a deep level with Christ, whose body the Church is.
It will allow young people to understand that religion and faith are not just for learning, nor are they a list of rules, but that they are for living.
• Students in Year 13 and 14 Northern Ireland
• Students in 4th year in the Republic
• Students in transition year
• Students in full-time education who have completed GCSEs or Junior Certificate
• Anyone between the ages 16 and 18, not in post-primary education
• The award is non-competitive, flexible and voluntary and requires an ongoing commitment
How many Awards are there?
There are four Awards: The Papal Cross, Gold, Silver and Bronze.
What is the completion time?
12-15 months beginning in the Autumn.
How do I earn an Award?
You earn your Award by taking part in activities through Parish Involvement and Social Awareness, and preparation of a Presentation. For the Papal Cross Award, which only begins after completing the Gold Award, the presentation is replaced by a project.