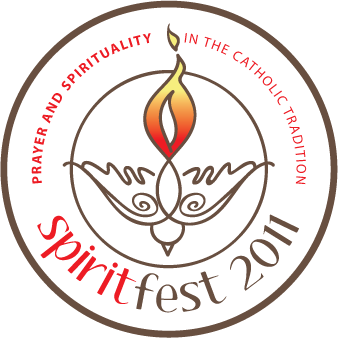 Firstly I decided to attend Spiritfest as a Catholic from my Parish.  Secondly I become involved in Spiritfest through a theology course called 'Go into my vineyard'.  On Friday, the 1st of July and Saturday, 2nd of July, 2011 – I attended two key note speakers and two workshops.  I have outlined what the speakers and workshops were about at the end of this report.
Each Session which consisted of a key note speaker and a workshop was opened with a lovely and inspiring prayer service.  As the title 'Spiritfest' suggests – the theme of the Morning Prayer was about bringing the Spirit of God to all present and awakening the Spirit within each of ourselves.  This was certainly the case as everyone sang, prayed and rejoiced with each other.  Everyone who attended Spiritfest was called by name to be there and as the letter of St. Paul to the Philippians' pointed out 'For God's way of making us right with Himself depends on faith'.  Faith was definitely present in abundance.  They say that there is a reason for everything and what is for someone will not pass them by unnoticed.  Everyone felt that they belonged to Spiritfest as there was a part for everyone in the Prayer service.  A reading from Pope Paul VI highlighted that 'I could never finish speaking about him: he is the light and the truth; indeed, he is the way, the truth and the life.  He is the bread and the spring of living water to satisfy our hunger and our thirst'.  The people who were at Spiritfest showed quite clearly that they are thirsty and hungry for bread and living water from the springs of life to quench their thirst.  On Friday, the 1st of July there was an evening of Taize music and worship.  I have previously purchased a CD of Taize music but it wasn't until I attended the Evening of Taize music and worship that my CD was brought to life for me.  On the Saturday evening there was an evening of prayer and worship in the form of a liturgical service with the Three Priest's leading the service.    The Three Priests have been amazing and truly blew everyone present away with their magnificent vocal range.  During the Adoration we were invited to come forward and place some incense into the burner as an offering for our intentions.  The harpist, the choir and the pianist deserve great praise as they were fabulous.  The atmosphere was electrifying and I must say that the organisers have done an amazing and wonderful job.  I believe that Spiritfest should be definitely repeated next year.  Everyone that I spoke to about Spiritfest agreed that it was great.  The amount of work and effort that the organisers put into this has been really well worth it.  The crowds at Spiritfest were above and beyond what I was expecting to see.
To conclude my report on Spiritfest – I would definitely state that I have achieved more than I was expecting.  Like everyone who attended Spiritfest I have been personally and professionally enriched and nourished to set myself on my way to preparing for attending World Youth Day in Madrid and it has served as a great preparation for receiving the Eucharistic Congress to Ireland in 2012.  I have come away from Spiritfest with a new energy, vibrancy and enthusiasm to implement some new ideas that I have picked up at Spiritfest which I could implement as part of my personal and professional life.
By Miss Mary Trainor
Please click the following links for a review of the speakers and some of the workshops.
Professor Eamon Conway
Rev. Laurence Freeman
Rev. Paschal McDonnell
Rev. Ruth Patterson
Workshops
Please click the below link to a slideshow of photos taken at Spiritfest.