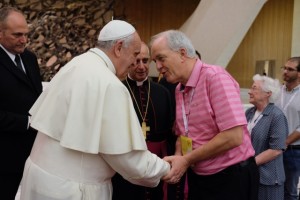 Last weekend the Pontifical Council for the Promotion of the New Evangelisation held a three day conference in Rome on Pope Francis' new encyclical, Evangelium Gaudium (The Joy of the Gospel).
Over 2000 delegates from all over the world attended including cardinals, bishops, priests, deacons, religious and over 1,000 laity.
Armagh was represented by Dr Tony Hanna, Director of the Office of Pastoral Renewal and Family Ministry, and he had the privilege of being one of the chosen delegates to greet Pope Francis personally.
Our own Archbishop Eamon Martin was spoken of very highly by one of the keynote presenters, Dr Raphael Monthienvichienhal from Thailand who addressed the issue of social media in the new evangelization. Dr Rapahel cited Archbishop Eamon's use of Facebook to advertise his installation as coadjutor Archbishop of Armagh  as a wonderful template for others to follow.