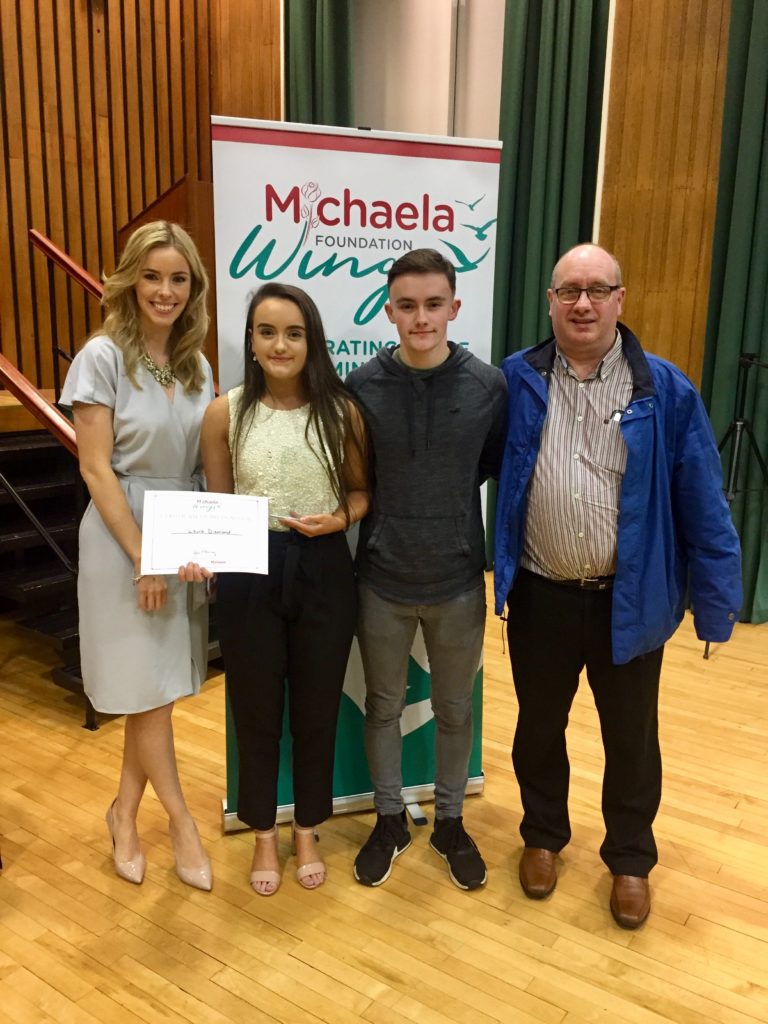 The Michaela Foundation, the charity, set up in memory of the late Michaela McAreavey, launched its search for this years 'Wings Awards' recipients in February 2019. The annual awards are aimed at celebrating young achievers who have played a positive role in their community. The Michaela Foundation's director, John McAreavey, said he wanted to "support young people who were either determined to, or already had achieved great things in whatever passion they have in life".
Laura Diamond, Year 13 pupil at St. Mary's Grammar school picked up the top prize at the Awards Ceremony on Wednesday 27th March 2019 in St. Mary's University College, Belfast. Laura was nominated by Miss Burns, (Head of Religion) as she is, 'a kind, compassionate and inspirational young lady, who has been a true example of living faith in the twenty-first century'.
Laura, is an active member of the Liturgy Group in St. Mary's, has completed the 'Muiredach Cross Award' and the Trocaire Romero Award with her family. In summer 2019, Laura travelled on pilgrimage to Fatima with her peers. As an active member of Bellaghy Parish, Laura also helps to lead the Children's Liturgy during Mass and is an active Minister of the Word. Laura has experienced highs and lows in her life journey to date. Despite losing her mum to cancer two years ago, Laura has kept her mums spirit alive and following in her mother's footsteps, Laura is hoping to train this year as a Eucharistic Minister. As a 'Public Events Prefect', Laura represents St. Mary's throughout the year at Open Nights, GL Assessment Days, Parent Teacher Meetings and Taster Days. Laura is currently taking part in Disability Inclusion Training as part of a Kilronan and St Mary's Partnership Programme which will enable her to do sports coaching in the special school and volunteer in the summer with a camp for young adults with disabilities in Bellaghy Parish. Her charitable nature is evidenced in her involvement in the Road of Hope Shoebox Appeal, the SVP Hamper Appeal and the SVP Family Gift Appeal. Laura is also completing her Gold John Paul II Award and is a keen member of the schools School Nutrition Action Group which seeks to promote well-being and healthy eating among pupils. Laura has also achieved great success in the European Shotokan Karate-Do Championships. Having been selected to represent Northern Ireland in the event, Laura along with her brother, travelled to Chalkida in Greece to participate in the competition.
Laura is a true inspiration and a credit to her family. Laura received a beautiful award on the evening presented by Mickey Harte and a bursary of £250. She is hoping to donate half to the NI Hospice and is using the other half of the money to go on pilgrimage to Lough Derg. A truly remarkable young lady!