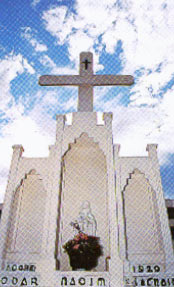 St Moninne's Well, Killeavy
New Prayer to St Moninne (St Blinne) of Killeavy
St Moninne, lived in the years 435 to 518. Her father was Machta, king of the lands stretching from Louth to Armagh. Her mother was Comwi, a daughter of one of the northern kings. The story has it that St Patrick passing through the lands of Machta came to see him. He blessed his wife and baptised their daughter giving her the name of his own sister, Daraerca. He foretold to her parents that her name would forever be remembered. Moninne ( Blinne) founded a monastery of nuns in Faughart, Co. Louth and it is said a number of convents in Scotland and England. She later moved to a place near Begerin in Co. Wexford to live under the rule and guidence St Ibar, and later still moved to Cill Shleibhe (Killeavy) in South Armagh( near Meigh today)  where she died in the year 518.
On the northern side of the cemetery at Killeavy Old Church there is a very large granite stone measuring seven feet long, five feet wide and about one and a half feet thick. This stone covers the supposed grave of St Moninne and in the past when the Pattern was celebrated, prayers were recited at this spot and the pilgrims continued to her Holy Well  climbing further up the mountain, returning to this gravestone for the final prayer.  The well is visible from the Grave.  It has a white painted front to frame it.
Prayer to St Moninne  ( St Blinne)
Lord we praise and thank you for the life and witness of your servant St Moninne   (St Blinne). She was a woman of great practical faith and charity. A woman of courage, filled with the Holy Spirit and open to your promptings. She helped establish monastic life in the era of St Patrick and St Brigid.  Her life with other companions was lived on the slopes of Gullion. Here in her faith and charity You led her to care for the poor and widows with their children affording them shelter and sustenance.  In this time of mercy we salute her as a woman of mercy imitating her Master in reaching out to all who called for help. Through her intercession may we too serve Christ in those we meet daily.  Help us to see His face in the poor, the sick and those in distress.  Like Blinne may we too ever listen to the Spirit speaking within our hearts.  Rekindle our faith, our hope and our love for all.   Amen
St Moninne of Killeavy   Pray for us.  Amen.