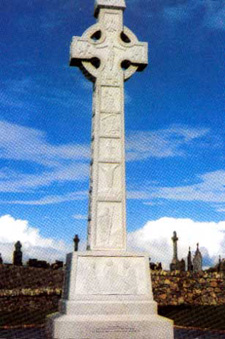 This High Cross was erected in the Parish of Termonmaguirc, Co Tyrone, to celebrate Jubilee 2000. It was blessed by Archbishop Seán Brady on Sunday, 10 September 2000. It sits in an area known as Fód na Marbh (sod of the dead) and is 24 feet high.
It features scenes from the lives of Irish saints. It has a 21st century depiction of the historic moment when Pope John Paul II inserted a prayer of reconciliation into the Western Wall in Jerusalem during his pilgrimage to the Holy Land in March 2000.
Best described as 'a prayer in stone', some of the cross's other motifs and panels include: The Nativity, the Crucifixion and the Resurrection, The Assumption of Our Lady, Christ preaching the Beatitudes, the Miracle of the Loaves and Fishes, the three patrons of Ireland – Ss. Patrick, Brigid and Columcille, St Oliver Plunkett, St Teresa of the Child Jesus, St Malachy, an emigrant boat, the sacraments and family life, the Archbishop of Armagh's coat of arms and the motif of the papal visit to Ireland in 1979.