Archdiocese of Armagh, Virtual Pilgrimage to Knock 2021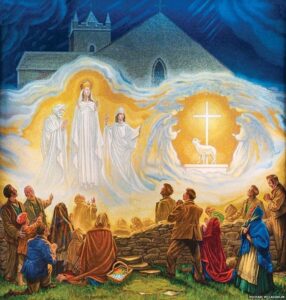 The Covid 19 pandemic has meant that we are again unable to travel to Knock as an Archdiocese in 2021. The annual pilgrimage to Knock is a high point in the Archdiocesan Calendar that many look forward to and so Canon Fee and his committee has developed a Virtual Pilgrimage that will again be available online.
Pope Francis has dedicated this year to St. Joseph and so this year as we journey through our Virtual Pilgrimage we reflect on St. Joseph, his impact on the life of Jesus and the role he plays in each of our lives.
You can access Archbishop Eamon's Welcome, each of the daily reflections from five Churches dedicated to St. Joseph in the Archdiocese, and Bishop Michael's mass streamed live from Knock by clicking any of the images or links below:
Pilgrimage Schedule
Tuesday 25th May 2021
8.30am: Welcome and opening reflection by Archbishop Eamon Martin
Wednesday 26th May 2021​
8.30am 'The Annunciation' from St. Joseph's Church Caledon and led by Fr Cathal Deveney
Thursday 27th May 2021
8.30am 'The Visitation' from St. Joseph's Church Mell and led by Fr John McAlinden
Friday 28th May 2021
8.30am 'The Nativity' from St. Joseph's Church Tynan and led by Fr Sean Moore
Saturday 29th May 2021
8.30am 'The Presentation' from St. Joseph's Church Dundalk and led by Fr Noes Kehoe CSSR
Sunday 30th May 2021
8.30am: 'The Finding of the Child Jesus in the Temple' from St. Joseph's Church Castletown and led by Fr Oliver Stansfield
2.30pm: 'The Rosary' from Knock Shrine followed by mass at 3pm Bishop Michael Router celebrated from Knock Basilica
Petitions and Prayer Intentions
Those who wish to offer petitions or prayers during our Virtual Pilgrimage can do so via the Archdiocesan Prayer wall. We invite you to click the image below and submit your prayer intentions.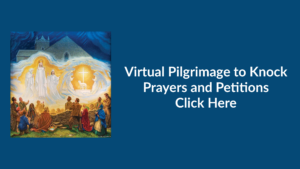 To have a Candle lit at Knock for your intentions please click here or on the image below