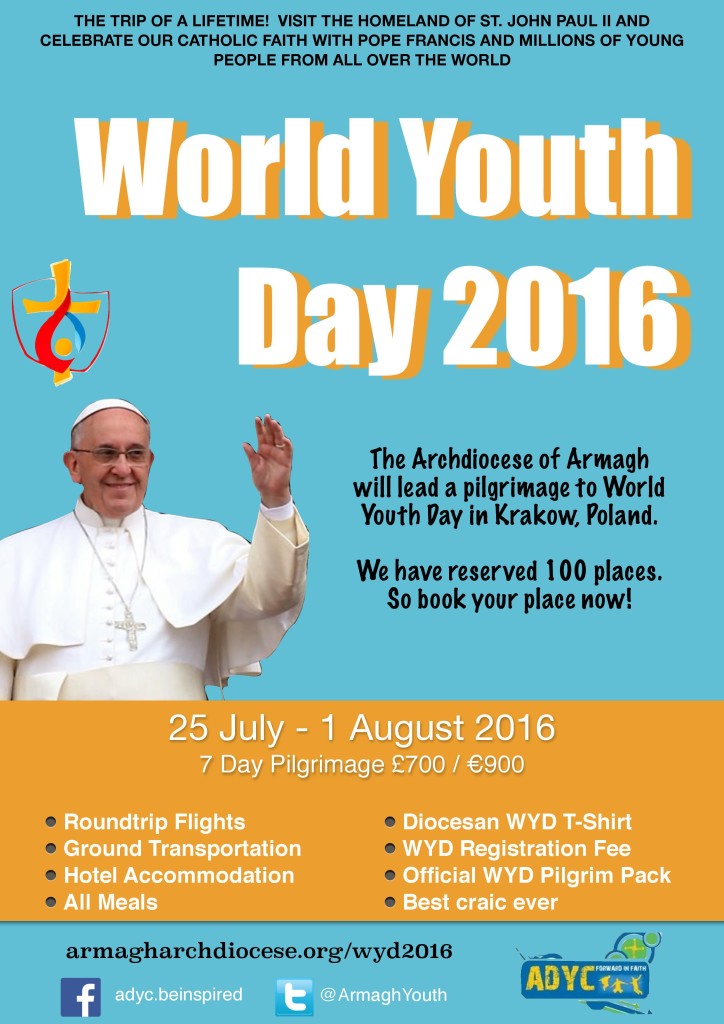 World Youth Day (WYD) is an International encounter with the Pope. WYD is celebrated every three years in a different country. The most recent WYD was celebrated in Rio de Janeiro, Brazil in July 2013 and the next World Youth Day will be held in Krakow, Poland from 25th July – 1st August 2016.
WYD is open to all young people who want to take part in a festive encounter with their contemporaries centered on Jesus Christ. This event is an opportunity to experience in first person the universality of the Church; to share with the whole world the hope of many young people who want to commit themselves to Christ and others.
World Youth Day is a unique way to deepen your faith and grow closer to Christ, by means of prayer and the sacraments, together with millions of other young people who share similar interests and ambitions.
It is expected that 3 million plus young people will attend WYD Krakow.
Armagh Diocesan Youth Commission (ADYC) is bringing 100 pilgrims to WYD Krakow 2016.  We feel that this is a wonderful faith development project to enable young people to celebrate and experience the joy of the Gospel.
ADYC have conducted a lot of research and planning.  A delegation from Ireland, including myself (Dermot Kelly, Diocesan Youth Director) travelled to Krakow recently to visit WYD Office, see some of the key sites and visit accommodation sites. From past experiences of WYD I was surprised by the city.  I loved its Catholic identity and historic narrative.  While the city was calm on our visit, I can imagine how the City of Krakow will be transformed during WYD.
What's Next?
We have reserved and paid for 100 places.  We will be bring different age groups on the one pilgrimage experience.  If you are 16-18 years old and 18-30 years old and are willing to be part of this worldwide encountering of faith, then we would like you to complete your registration TODAY.  See below link with registration form.
http://www.armagharchdiocese.org/wyd2016/
We hope that all recruitment for pilgrimage will be completed by Autumn 2015.  After this ADYC aims to journey with young people& leaders by providing a six month preparation programme that will involve; catechesis, fun and friendship.