The Prayer and Spirituality Commission are delighted to let you know about their new exhibition on Pilgrimage. It was designed to be available to secondary schools who look at this topic as part of Junior Cert and GCSE Religious Studies. It may also be suited to parish groups. To have it for display you will need a large room with tables around the walls so that the posters and materials can be viewed comfortably.
As part of their celebration of Catholic Schools Week, St Killian's Community School in Ardee is currently hosting the display for their students and staff members to visit. See attached photos. Other schools are invited to apply to Fr Declan O'Loughlin, 028 3088 9609, to make a booking. You can download the attached poster and small brochure on Pilgrimage prepared by the commission.
EXPLORING CHRISTIAN PILGRIMAGE Poster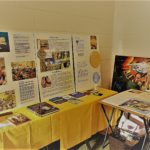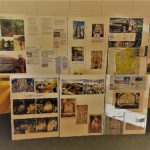 St Pius Xth College in Magherafelt March 21st welcomed the exhibition and feedback from students attending was very positive.
This week the exhibition is in St Mary's College Dundalk for a FULL 9 DAY exhibition. So far teachers report good interest and feedback. They have developed a worksheet for students to complete and we are delighted at suggestions coming back from students and staff members.